PREVIEW: 'Bar Rescue' Returns and Jon Taffer Goes Ballistic (Again!)
Jon Taffer returns for another season of over-the-top, brutally candid, kick-in-the-ass consulting as he tries to turn struggling bars into profitable businesses in Bar Rescue (Sundays at 10/9c on Paramount Network).
The series begins its sixth season March 11 with a heated father-and-son showdown on the management (more like lack of) of a Memphis, Tenn., family-owned bar in the episode "Put It on Cody's Tab."
Taffer wastes no time calling the situation for what it is, telling son Cody that he got "f***ed" by his father Bryan. The belligerent Bryan doesn't appreciate Taffer's assessment on Bryan putting Cody deeper into debt because he's drinking the place away, and an altercation ensues.
"That's a great episode, its one of my favorites," tells Jeff Altrock, one of the executive producers on the show. "It's got a great family dynamic and a really interesting story.
"Basically, Cody's father and mother, who owned the bar, had gotten into some real financial trouble. Right when they get the bar taken from them, they put the bar in their son Cody's name. Cody was living out of state at the time, away from them, and had a whole different life going on. So they put the bar in Cody's name and then continued to run that bar back into the ground again."
If you're familiar with the show you know Taffer's never easy on any of the bar owners or staff when he makes his surprise visits, but that's the appeal to the show. Taffer's brutally aggressive style is enhanced with his theatrical flare and his hot temper — the guy curses more than Gordon Ramsey — but he's effective.
"What I love about Jon is, he feels the pressure," tells Todd A. Nelson, CEO of 3 Ball Entertainment, who produce the show. "When we first sat down, and we started looking through the format, Jon told us it normally takes a year to do these things. And I go, 'What? We got five days.' So we went through this process and condensed it. I think from that very first time, Jon's like, 'Holy s**t! I gotta do this in five days?'"
Taffer feels the pressure, but he owns it. His adrenaline fuels his tight schedule and is why he bulldozes into every bar barking orders and going full-out ballistic on gross negligences.
Altrock adds, "Jon does break people down, but it's only for the good of building them back up. It really becomes about transforming people as much as it becomes about transforming a bar.
"Even more so sometimes, because if you don't fix the people then the bar will continue to fail. So, I think what Jon does a really good job of is really digging in trying to figure out what the root of the problems are with the people and then trying to help that as well."
With over 160 episodes of Bar Rescue behind them, producers are still fielding thousands of applicants for future episodes. Season 6 will feature bars in Florida, Memphis, Nashville, Las Vegas and Los Angeles.
You can understand the amount of applicants, knowing what each bar receives out of the publicity on being on the show and the actual rescue, which ranges from rehauls to new refrigeration units and furnishings to structural changes. That said, we wanted to know who picks up the tab on this bender and who really pays for everything on Bar Rescue.
"The network pays for it," Nelson said. "We have a budget and inside the budget we have line items that are to make a real bar. We get trade outs. A lot of time we'll get glasses from somewhere, this or that. There's a lot of different stuff. A lot of great partners."
Raise your glass to that opportunity, and a new season.
Bar Rescue Season 6, premieres Sunday, March 11, 10/9c, Paramount Network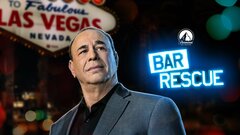 Powered by