Paramount Network's 'Heathers' Revival Delayed in Wake of Florida School Shooting
Paramount Network announced Wednesday that it is delaying the premiere of Heathers. The darkly comic revival series was originally set to debut March 7 but will now be on hold until later this year.
This follows the February 14 mass shooting at Marjory Stoneman Douglas High School in Parkland, Florida, that killed 17 people and injured 14 more. The suspected gunman, 19-year-old Nikolas Cruz, is in custody, and has been charged with 17 counts of premeditated murder.
The incident launched a nationwide discussion and debate on guns and gun control that continues weeks after the incident, prompting even celebrities to weigh in on the issue. With emotions on all sides heightened, and with victims still being mourned and survivors trying to move on, Paramount Network has clearly read the climate. They released the following statement about Heathers:
"Paramount Network's original series Heathers is a satirical comedy that takes creative risks in dealing with many of society's most challenging subjects ranging from personal identity to race and socio-economic status to gun violence. While we stand firmly behind the show, in light of the recent tragic events in Florida and out of respect for the victims, their families and loved ones, we feel the right thing to do is delay the premiere until later this year."
Heathers is based on the 1988 cult classic film of the same name, starring Winona Ryder and Christian Slater. It too was a dark comedy that took a satiric look at tough-to-discuss societal issues, including teen suicide and school violence.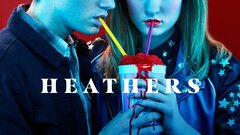 Powered by