'Santa Clarita Diet': Netflix Drops Gruesome, NSFW Season 2 Trailer (VIDEO)
It's about to get bloody—quite literally.
The first season of Netflix's Santa Clarita Diet surprised viewers with its quirky take on the All-American family that happens to include an undead mom who eats people.
The comedy starring Drew Barrymore and Timothy Olyphant is set to return for Season 2 March 23 on Netflix, and it's been over a year since viewers had a such a diverse tasting of episodes. Released in February of last year on the streaming service, Season 1 follows Shelia (Barrymore) and Joel (Olyphant) and their daughter Abby (Liv Hewson) as they try to navigate Sheila's newly discovered ailment as an undead being.
See Also
Sheila, Joel, and Abby Hammond are joined by some familiar faces.
Described as a horror comedy, the unlikely pairing of genres makes for TV gold, making it an easy binge with just 10 half-hour episodes in the first season—so there's plenty of time to catch up before Season 2 is added.
In the trailer for the new season, Sheila decides she wants to live life to the fullest, "I want to shake s—t up. Dream big, I don't want to stop living just because I'm undead," she pronounces just moments before her finger flies off her hand.
Daughter Abby isn't so sure she can deal with the craziness much longer though, "I'm actually looking forward to a day without any life-and-death issues," she tells Eric (Skyler Gisondo). Well, unfortunately for Abby, it doesn't look like things will be calming down anytime soon.
"Someday if you have kids and you get a virus and start killing people, you'll appreciate how well your mother and I are doing," Joel tells his daughter.
To see the gory hilarity in all its glory, check out the full-length trailer below.
Among some of the trailer's other highlights are blood-covered kitchens—that's going to be hard to clean up—a kill room that looks like it was copied from "a kill room catalogue," and guest stars like Andy Richter, Gerald McRaney and Joel McHale as well as Nathan Fillion?!
It appears that last season's first victim Gary (Fillion) is back in the undead form of a talking head—since Sheila ate most of him already. Oh, and that catchy use of Hootie and the Blowfish's "Only Wanna Be With You" doesn't hurt either.
See Also
Drew Barrymore and Timothy Olyphant will be back for more undead humor in the Netflix comedy.
Just because Sheila and Joel have been getting away with their crimes doesn't mean that they're free and clear though, it looks like Officer Garcia (Natalie Morales) is still searching for her partner's killer, and the person responsible for a number of disappearances in Santa Clarita. Time will tell what kind of shenanigans the Hammonds will get into, and we can't wait to see it.
Santa Clarita Diet, Season 2 premiere, Friday, March 23, Netflix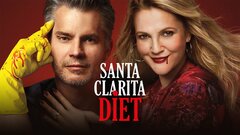 Powered by