Roush Review: A Very 'Barry' Good Time
Not since Dexter has a stone-cold murderer warmed the heart so weirdly and endearingly as hit man Barry (played by the great Saturday Night Live veteran Bill Hader, who co-created and directs episodes of the series).
Though antihero tales are hardly new on TV, HBO's Barry scores as a wildly original and suspensefully entertaining hybrid of dark comedy and delirious action.
Numbed by the business of death, the titular ex-Marine finds new reason to go on when he follows a target into a grungy acting class of hopeless L.A. hopefuls.
"This class is about life!" declares the teacher, Gene, wonderfully played by Henry Winkler with alternating attitudes of cynical scorn and hammy optimism. His star pupil, the ambitious Sally (a vulnerable Sarah Goldberg), takes a shine to the awkward newbie (and vice versa), though she concedes Barry is "like a weird nut I can't crack."
If only she knew.
Acting helps Barry reclaim his humanity, but at a harrowing price. His newfound vocation vexes his venal handler (a viciously funny Stephen Root) and causes bloody havoc with the brutish Chechen mobster (Glenn Fleshler) who hired him, and whose oddly and hilariously congenial sidekick (Anthony Corrigan) is Barry's biggest admirer. As Barry tentatively woos acting partner Sarah, and Gene turns his old-fashioned charms on the skeptical detective (Paula Newsome) who's following the blood trail, Barry kills on- and offstage—in every way imaginable.
Barry, Series Premiere, Sunday, March 25, 10:30/9:30c, HBO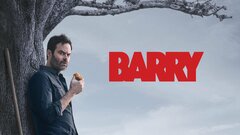 Barry
where to stream
Powered by