Everything We Know About 'Big Little Lies' Season 2 So Far
UPDATE (2/8/2019):
The second season of the Emmy award-winning drama series will premiere in June 2019 on HBO.
UPDATE (4/10/2018):
Martin Donovan, known for his roles on Weeds and Boss, has been cast in the role of Martin Howard, the father to Zoe Kravitz's character Bonnie, in Season 2.
He will be playing opposite Crystal Fox, who landed the role of Elizabeth Howard, Bonnie's mother.
UPDATE (4/3/2018):
Production is underway on Season 2 of HBO's breakout hit show Big Little Lies and some new casting information was just announced.
Kathryn Newton (plays Abigail Carlson), Robin Weigert (Dr. Amanda Reisman), Merrin Dungey (Detective Adrienne Quinland) and Sarah Sokolovic (Tori Bachman) are all returning to the Emmy-award winning series.
And Crystal Fox (as Elizabeth Howard) and Mo McRae (as Michael Perkins) have joined the cast, according to Deadline.
ORIGINAL STORY:
Big Little Lies Season 2 is the gift that just keeps on giving.
This week, HBO revealed that Adam Scott will return for the second season of the beloved series — the latest in a list of Season 1 favorites coming back.
Accoriding to The Hollywood Reporter the Parks and Recreation alum will once again play Madeline's (Reese Witherspoon) husband, Ed, and share the screen with fellow Season 1 stars Nicole Kidman, Shailene Woodley, Laura Dern, and Zoe Kravitz. Returning in a limited capacity is Alexander Skarsgard as the [SPOILER] deceased Perry.
Also announced Wednesday was the return of Young Sheldon's Iain Armitage as Jane's (Woodley) son, Ziggy, along with James Tupper and Jeffrey Nordling as Nathan and Gordon — the husbands of Bonnie (Kravitz) and Renata (Dern). Douglas Smith (Big Love) joins the growing cast as well, playing "an off-beat surfer, aspiring marine biologist and Jane's co-worker," Corey Brockfield, according to a Deadline report.
All of these casting reveals are exciting, but the biggest hype surrounding Season 2 is the addition of new cast member Meryl Streep, who will play a series regular as Perry's mother, Mary Louise Wright. The show is still looking to cast more Season 2 parts, including someone in the role of Bonnie's father — may we suggest the actress' real-life dad, Lenny Kravitz?
Big Little Lies will clearly continue to pack a punch with its Hollywood heavyweight cast, but there is a shake up in the directorial department. Jean-Marc Vallée helmed every one of the first seven episodes, but in Season 2, he'll be taking a step back, assuming the role of executive producer. Andrea Arnold will take over directing the female-centric story.
Based on the novel of the same name by Liane Moriarty, the new season will extend beyond the book plot. Now, show writer David E. Kelley's stories will serve as inspiration reported Variety.
That new storyline is said to focus on similar themes touched upon in the first outing, including marital tension, friendship, loyalty, and suburban violence. Things won't lighten up too much for the characters of this drama, but isn't that half the reason people watch?
Big Little Lies, Season 1, Streaming now, HBO Go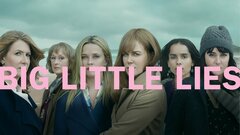 Powered by