First Look: Audience Network's Steamy 'You Me Her' Season 3 Trailer (VIDEO)
AT&T Audience Network's modern, polyamorous rom-com You Me Her returns for Season 3 on March 20, and to celebrate, TV Insider has your exclusive first look at this season's provocative trailer.
You Me Her explores a complicated three-way romantic relationship between a suburban married couple and a young graduate student, and stars Greg Poehler, Rachel Blanchard and Priscilla Faia.
Take a Look at Season 3 of You Me Her:
Season 3 kicks off  four months after the "throuple's" breakup, with Emma's (played by Blanchard) career taking off in Seattle, and her exploring a new relationship with an old flame.
Meanwhile, in Portland, Jack and Izzy (Poehler and Faia) are blissfully monogamous and contemplate starting a family. But when the trio reunites before Jack and Emma's divorce signing, they are forced to confront what drew them together in the first place—and what tore them apart—and decide if there's enough room for all of them in the relationship.
You Me Her Season 3, Tuesdays at 10/9c beginning March 20, AT&T Audience Network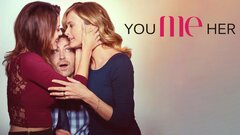 Powered by