'The Good Fight': Audra McDonald on Why She Joined the Series
The incomparable Audra McDonald has a record-breaking six Tonys, two Grammys and an Emmy—and now she has a law degree (well, in a way). She's The Good Fight's newest legal eagle, Liz Reddick-Lawrence, who first appeared on the original Good Wife as the ruthless law-school nemesis of Alicia Florrick (Julianna Margulies).
A longtime U.S. attorney ousted after an impolitic tweet, Liz is offered a partnership at Reddick, Boseman & Lockhart—her late father's old firm—by Diane Lockhart (Christine Baranski). Time will tell how well the company's boss, Adrian Boseman (Delroy Lindo), who happens to be her ex-husband, reacts to her daily presence. McDonald talks about joining the Fight club.
See Also
Plus, catch a glimpse at the thrilling—and deadly?—new key art.
You haven't signed on to a series since you left Private Practice in 2011. Why join The Good Fight?
I loved The Good Wife, and I adore Christine. She presented me with my Tony back in 1996! The idea of Diane Lockhart entrenched in this African-American law firm was a world that really excited me. It was also a chance to work in New York. I could sleep in my own bed and be part of a terrific ensemble with fantastic writing.
Be honest: Is Liz joining her ex's firm just to screw with him?
[Laughs] The opportunity presented itself, but also it offered a chance to reclaim and assert her power. She felt a bit powerless in her relationship. She'll make sure he knows she's no one to be messed with now!
How will Liz relate to Diane?
They're both very assertive, superstrong ladies! Liz will position herself as an ally of Diane's, but sometimes their relationship will work—and sometimes it won't.
Despite all your work onscreen, do you still consider yourself a Broadway baby at heart?
I do. When the right TV project comes along, I jump at it. But I'll always be a theater kid first.
The Good Fight, Season 2 Premiere, Sunday, March 11, CBS All Access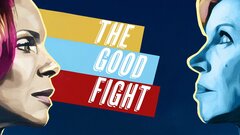 Powered by