Roush Review: 'Rise' Is a Performance Worth Tuning In For
There's not a lot of glee, or Glee, as the curtain rises on Rise, which could school This Is Us in manipulative tactics as it tackles two of my all-time favorite genres: the tearjerker and the musical.
If ever a TV series spoke my language, it should be this one. And at times it truly does live up to its billing, especially whenever students from a depressed Pennsylvania steel town shed the burden of calculated teen angst to amplify their feelings in song and dance, while rehearsing an instantly controversial production of the sexually charged pop-rock musical Spring Awakening.
See Also
Students and teachers in a small town fight for their right to...belt out show tunes.
Rise deserves praise for reminding us how difficult it is to put on a show, unlike Glee's tuneful fantasias. Once again, music and theater are a way to bridge divides in race, class and sexuality. But where Rise creator Jason Katims's Friday Night Lights once made us care equally about the kids and adults, the balance here is off. The message is fine; it's the messenger you want to throttle.
Josh Radnor (How I Met Your Mother) plays English-teacher-turned-director Lou Mazzuchelli as an aspirational bully, smug to his critics ("Musicals are typically referred to as shows, not plays," he patronizes) and arrogant toward his collaborators, especially Tracey (a spirited Rosie Perez), the longtime drama coach whose job he inexplicably usurps.
See Also
Exclusive details about TV's hottest new shows.
For all his talk about achieving one's dreams through art, Lou is a tone-deaf nightmare. Still, there's much to admire in his desire to shake things up with a bold and modern show, casting a sensitive football jock (Damon J. Gillespie) and an ingenue from the wrong side of the tracks (Moana's Auli'i Cravalho) as the leads in a tantalizing Romeo-and-Juliet scenario. (Which made me think West Side Story might have been a less overreaching musical choice.)
There's no way I'd ditch this before the final bows, but for an encore, might I suggest rising above clichés and giving Lou a reality check? As Tracey reminds him, this is high school and "You're not freakin' Ziegfeld!" End scene.
Rise, Series Premiere, Tuesday, March 13, 10/9c, NBC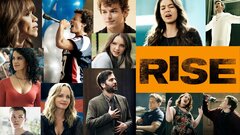 Powered by