Ask Matt: Favorite TV Doctors, Are Classic Sitcom Bad Boys Still Funny, Ryan Murphy's Netflix Deal, and More
Welcome to the Q&A with TV critic (also known to some TV fans as their "TV therapist") Matt Roush, who'll address whatever you love, loathe, are confused or frustrated or thrilled by in today's vast TV landscape. One caution: This is a spoiler-free zone, so we won't be addressing upcoming storylines here unless it's already common knowledge. Please send your questions and comments to [email protected] (or use the form at the end of the column) and follow me on Twitter. Look for Ask Matt columns on most Tuesdays and Fridays.
Hey, What About My Favorite TV Doctor?
Question: Why was Hugh Laurie of House not listed among the favorite TV doctors in the article "What's Up, Docs?" from the recent issue of TV Guide Magazine? — Jane
Matt Roush: No matter what the list, and I've been involved in compiling so many over the years for TV Guide Magazine, there are omissions that are hard to explain. But in this case, because I heard so much feedback (and leaving off House was a recurring topic), I'll let you in on the process. My assignment was to provide a sidebar to our cover story on The Good Doctor, listing five of the top TV docs of all time. Which means to me narrowing the very long list down to a few of the most iconic doctors, representing as many eras of TV as possible. (So I can't just pick from the last decade or two.)
I cheated on this one by creating subcategories: M*A*S*H's Hawkeye Pierce (Alan Alda) as "The Clown," for instance, and no way would he be off the list. This allowed me to include both ER's George Clooney and Denzel Washington from my personal favorite, St. Elsewhere, as "The Movie Stars." So I ended up with six instead of five. In cutting the list down, Hugh Laurie as House was the most painful, because there's not another TV doctor quite like him. But I opted to stick with the healers over medicine's own Sherlock. And for the long view, I felt obliged to feature Marcus Welby, M.D. from the 1970s and Dr. Kildare from the 60s. (I had to choose between Kildare and Ben Casey, the two most famous TV doctors from when I was a kid, and Richard Chamberlain stood out as "The Promise of Youth.")
Some more feedback:
Question: In listing TV's greatest doctors, you did not include Chad Everett's Dr. Joe Gannon of Medical Center, a great show too. He should have been included. — Lupe and Roger
Matt Roush: A solid choice, and a major TV star, and if I'd had a top 10 instead of five, he might have made the cut. But Medical Center was eclipsed during its run by the warmer humanism of Robert Young as Marcus Welby, so that's why I chose him instead. (I also remember reading TV Guide listings of Medical Center episodes to my mom as a kid and laughing at how outlandish some of the situations were, so I guess I didn't take it all that seriously even back in the day.)
Question: You have left out some outstanding doctors—Derek, Meredith, and at least two others—from Grey's Anatomy. Shame on you! — Patricia
Matt Roush: Shame on me? Hey, it's just a list. But I did have one rule, that I had to pick just one from any show. And I also wanted to include at least one female doctor among the list, and while Meredith is very much the voice of Grey's Anatomy, I truly believe that Miranda Bailey (Chandra Wilson) is the heart and soul of that show. I considered Sandra Oh as well, as Cristina Yang is so fierce and a longtime favorite, but she left too soon. Bottom line: No list is perfect, especially one this condensed, but if it conjures up memories of personal favorites of your own, its work has been done.
---
Are TV's Bad Boys Responsible for #MeToo Abuses?
Question: Lately I've been bingeing on classic sitcoms available on over-the-air micro-channels like Antenna TV and Laff. It's a good way to temporarily escape the madness of our political reality. But I've noticed that in the wake of the #MeToo and #TimesUp movements, I find myself cringing while watching shows and characters that used to make me laugh out loud. Examples: John Larroquette's Emmy-winning lecherous lawyer Dan Fielding in Night Court, Kelso on That '70s Show, the frat-boy antics of Drew Carey and his friends. Then there are the more recent sex-drenched sitcoms on both network TV (Two and a Half Men) and cable (Anger Management, Californication, Shameless). Do you think sitcoms like this, which make fun of lecherous, bad-boy behavior, are contributing factors to creating a social climate that has (up to now) given a subconscious OK to licentious behavior: dictionary-defined as "disregarding moral restraints…sexual restraints…and strict roles of correctness?" TV dramas do a great job of exploring contemporary issues. Should sitcoms now play a role in redefining and educating us about acceptable behavior? — Maurice
Matt Roush: A fascinating subject here, although it sounds more like a proposal for a cultural-studies thesis than a subject I can address in this sort of forum without making too-sweeping generalizations. It's best to appreciate (or not) these shows and characters as products of their less enlightened times, while acknowledging that there's a fine line between glorifying such behaviors and making sport of them as comedy has always and will continue to do. Political correctness can be the death of comedy in particular, but the current movements supporting female empowerment will surely have an impact on many of the types of stories being told going forward. The hope is that if more women's voices are being heard in front of and behind the camera, boorishness will be more of the exception than the norm. I'm all for sophistication in comedy—the recent passing of John Mahoney reminded me of how much I miss Frasier—but if comedies aren't allowed to be outrageous, and instead become a platform for preachy life lessons that most of us already know, that sounds like an awfully dreary outcome to this cultural moment.
---
Daytime Trauma
Question: How in this sane world can Harry be canceled and Megyn Kelly Today still be on the air? — Betty
Matt Roush: You're assuming this is a sane world and business. In this case, we're talking about two very different businesses, not just personalities. Harry Connick Jr. was competing in the very tough world of network syndication, which has defeated more seasoned broadcasters including Meredith Vieira, Katie Couric and Jane Pauley (who's thriving wonderfully on CBS Sunday Morning these days). NBCUniversal gave the very charming host two seasons to catch on, and it just didn't make a big enough impact to survive. The much more polarizing Megyn Kelly has quite obviously struggled in establishing her hour of Today, although it seems to have gained some traction lately as she focuses on social issues like the #MeToo movement. But NBC News has made a big investment in Kelly, and will continue to nurture the third hour of Today for now. Let's see what the situation is after the second year.
---
Ryan Murphy's Exodus to Netflix
Question: It seems like the most prolific producers on the major networks and big cable channels are being lured to streaming platforms such as Netflix. I'm sure it's mostly about the money, but from what I've been hearing, it's also about creative freedom. Although Fox-owned (likely soon to be Disney) FX seems to allow Murphy to display pretty much whatever he wants. Do you think Murphy is leery of Disney supposedly taking over FX and neutering his programs? The same query goes for Shonda Rhimes and other less publicized producers. — Fred
Matt Roush: Even if the Fox studio weren't in play, a talent like Ryan Murphy would have been, with his contact expiring. Those who analyze these sorts of business matters believe the pending Disney deal made it easier for Murphy to leave his longtime production home, even with guarantees from Disney's top brass that they wouldn't try to soften his content. With Netflix's deep pockets and hands-off approach to producers, this was almost a no-brainer. Luring Murphy and Shonda Rhimes from the world of broadcast TV may be Netflix's most revolutionary act yet in reshaping the industry.
---
Seeking Sunday Night Stability
Question: Just wondering when NCIS: LA and Madam Secretary are going to be back on. It's been so long. I really want to know what happens to Hetty. — Deirdre
Matt Roush: You and millions of others. It has been an unusually disruptive winter for Sunday TV: the Grammys, then the Super Bowl, then three weekends of Olympics programming. And it continues one more Sunday with the Oscars on March 4. Networks aren't willing to throw away original episodes of their regular series against these ratings giants, which means things won't get back to normal for these CBS dramas until March 11.
That's all for now. We'll pick up the conversation again soon. Thanks as always for reading, and remember that I can't do this without your participation, so please keep sending questions and comments about TV to [email protected] or shoot me a line on Twitter (@TVGMMattRoush), and you can also submit questions via the handy form below.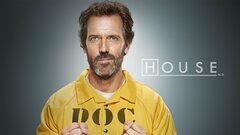 House
where to stream