'Girls' Star Lena Dunham Opens Up About Her Hysterectomy, Split From Jack Antonoff
It was recently revealed that 31 year old Girls star, Lena Dunham, underwent a hysterectomy. The writer who has been battling endometriosis pain for years made the decision to combat her crippling situation.
In the past, Dunham has never shied away from sharing her truth, so it's no surprise that she penned an essay for Vogue detailing her decision to go through an irreversible procedure. Among the notable highlights of the essay are details about her relationship with ex-boyfriend and music producer Jack Antonoff—the pair split in January of this year.
"My beautiful partner, who has seen me through so much pain with compassion and care, has to be away for work, and I can feel us growing slowly apart, since life is so determined to display its full complexity right now," wrote Dunham. "I am surly and distant. I offer nothing."
While she doesn't directly refer to her chronic pain as the reason behind their split, it certainly played a role. "But I also know that soon—for so many reasons that have nothing to do with my uterus—we'll slip away from each other and I will face everything I am losing in impossibly tiny step."
Despite Dunham's state and recent heartbreak, she has some exciting things ahead, one of which is newly ordered HBO series Camping starring Jennifer Garner. Dunham will team up again with Girls show runner Jenni Konner for the comedy project. Both Dunham and Konner will serve as writers for the new series, as well as executive produce.
Camping will be Dunham's first TV writing project since the Girls finale aired in April of 2017. No word has been given on when the new series is expected to air, but we're sure it'll be worth the wait.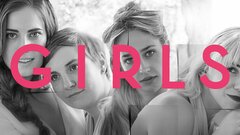 Girls
where to stream
Powered by