WATCH: Three of 'The Magicians' Talk Their Syfy Hit and Send Love to Fans
If you have fallen under the spell of Syfy's The Magicians like we have, you know the show has been on a quest all season to restore magic to the world. But what you may not know is where the cast actually sees magic in the real world.
That tidbit, and several others, came out when we sat down recently with Stella Maeve (Julia), Olivia Taylor Dudley (Alice) and Jason Ralph (Quentin) to discuss Season 3's hunt for the Seven Keys, Julia's powers and what the fans have meant to them.
Oh, and prepare yourselves: Not only is Jason now manbun-less, he's also packing one hell of an impersonation of folks who think he's supposed to be working Vegas.
The Magicians, Wednesdays, 9/8c, Syfy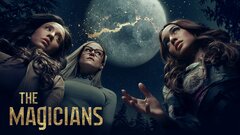 Powered by