'Designated Survivor's Midseason Premiere: Kiefer Sutherland on What to Expect
You certainly can't accuse Kiefer Sutherland of exaggeration. Designated Survivor's POTUS warned us early in Season 2 that a game-changing plot twist was on the horizon. And sure enough, the ABC political drama delivered one helluva shocker in its winter finale: Tom Kirkman's wife, first lady Alex (Natascha McElhone), died in a car crash.
As the action resumes tonight, the question on everyone's mind is…now what? Sutherland offers answers.
See Also
The actor will have a multi-episode arc.
Was it always in the cards to make Kirkman a widower?
We started talking about it as an option midway through Season One, and obviously Natascha was involved in those conversations. Anyone who's in the position of being the president experiences a real sense of isolation, and this is a way for us to make a big statement about that.
Tonight's episode picks up 10 weeks after Alex's death—and Kirkman is a wreck. What's ahead?
He believes that if he had not accepted the presidency, then his wife would still be alive. Once you get into that kind of rationalization, you start to get quite angry about all of the circumstances. We've taken what was a really amicable, sweet man and put him in a position where he could become more volatile, and react accordingly.
Will he be able to pull it together to do the job at hand?
That's what we'll have to see—because the needs of the citizens of the United States don't take a break. It's like those Vicks ads, "Moms don't take sick days," but multiply that by 1,000 and square it.
Any chance Kirkman could find love again?
It's conceivable, down the line. His marriage was important to him, so it's going to require some time, you know? But you can't fault someone for falling in love. It's a possibility!
Designated Survivor, Midseason Premiere, Wednesday, Feb. 28, 10/9c, ABC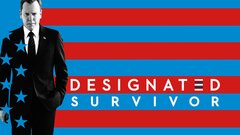 Powered by