Philip Winchester and Sullivan Stapleton to Reprise 'Strike Back' Roles on Season 5
Cinemax confirmed Tuesday that original Strike Back stars Philip Winchester and Sullivan Stapleton will be reprising their roles with appearances near the end of Season 5.
Stapleton returns as Sgt. Damien Scott, and Winchester is back as Sgt. Michael Stonebridge. The actors will guest star in the Strike Back episode airing on Cinemax March 30, and in the Season 5 finale on April 6.
The two actors starred in 41 episodes of the action series' original run from 2010-2015. Cinemax recently revived the series for a fifth season as part of its planned Friday night action slate, which began airing on February 2 with a whole new cast.
In a recent interview with TV Insider, Winchester—who made his debut last week as a  cast member on NBC's Law & Order: SVU—admitted that he does "miss the action" of a show like Strike Back. The actor was also a bit coy about whether whether any of the original stars would return to the series in any capacity.
"It would have been a minor miracle if we would've been able to get over [to Strike Back]," he teased, which made sense, given his new commitments to SVU, and Stapleton's costarring role on another NBC hit, Blindspot. But Winchester also tellingly laughed when he said, "I don't know if we did or we didn't."
Well, clearly we know now that they did, and that that "minor miracle" happened, for which Strike Back fans will be very grateful.
Strike Back Season 5 airs Fridays, 10/9c, on Cinemax.
Sullivan Stapleton and Philip Winchester return in the March 30 and April 6 episodes.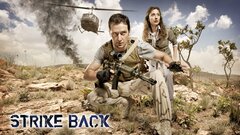 Powered by