'UnReal': 5 Things to Know About Season 3
The behind-the-scenes soap about a Bachelor-like series is back for Season 3, but this time, Everlasting (the show within the show) may be anything but. It's been off the air since botching last season, and executive producer Quinn King (Constance Zimmer) and colleague Rachel (Shiri Appleby) must make their bosses fall back in love with the dating game.
Here, UnReal's real-life executive producers Sarah Gertrude Shapiro and Stacy Rukeyser reveal why viewers will want to swipe right.
1. Rachel is a new woman.
For now. The emotionally troubled producer faced the truth about being raped as a teen and her role in a contestant's suicide. When the show picks up, she's been living on a goat farm observing a spiritual healing practice called Essential Honesty. "She only tells the truth," Shapiro explains. We'll see how long that lasts once she's back in the superficial world of Hollywood, where lies flow freely.
2. A "suitress" will ruffle some feathers.
Master of Sex's Caitlin FitzGerald steps in as Serena, Everlasting's star singleton. A fiery feminist, "she's different from the demure preschool teacher you normally see in that role," Rukeyser says. She's also not easily manipulated.
See Also
Aussie hunk Adam Demos gives the scoop on Season 3 and Season 4.
3. Quinn is more driven than ever.
Having accepted that she can't have kids, expect Everlasting's boss to be more of a mother when it comes to her professional life. "Quinn realizes that her career better be pretty bangin' if it's going to be her full-time focus," Shapiro says. "And at this moment, it's not." Give her time.
4. The claws come out.
Even though Rachel, Serena and Quinn butt heads, their battles will be about empowerment. "We really don't want our female characters fighting, but we aren't going to avoid it," Shapiro says.
5. The men will bare all.
If you've seen the trailer, you know there's plenty of meat on the hook this year. Serena's stable includes "guys from all over the world," Rukeyser teases. "And they're all shirtless all the time."
UnReal, Season Premiere, Monday, Feb. 26, 10/9c, Lifetime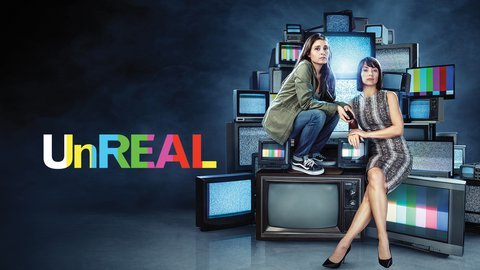 UnReal
where to stream
Powered by