Roush Review: 'Girlfriends' Is 'Golden Girls' Meets 'Desperate Housewives'
Regrets? They have a few. Also aches, pains and the insecurities that come with being a woman of a certain age.
Think Golden Girls by way of Desperate Housewives and you have Kay Mellor's deliciously dishy Girlfriends, one of the juicier British imports since the original Mistresses. Opening with a funeral, a pending divorce and a career demotion smacking of ageism, the series provides wonderful roles for three terrific stars.
Downton Abbey's Phyllis Logan is the dithery, newly widowed Linda, under suspicion after her husband vanishes during an anniversary cruise. Rallying around her are Zoe Wanamaker as loyal and resilient Gail, clinging to a broken marriage, and flamboyant Miranda Richardson as vain, ridiculous Sue, whose married lover (Anthony Head) tells her she's "no longer relevant" enough to continue editing their bridal magazine.
Those are fighting words, and you'll root for these ladies to get what they deserve. Even when the plotting goes a bit off the rails, with vindictive stalkers and family secrets, this six-episode binge is a delight.
Girlfriends, Friday, Feb. 23, Acorn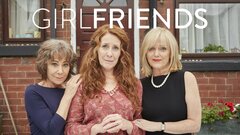 Powered by