'SEAL Team': After the Emotional 'Getaway Day,' David Boreanaz Shares What's Next
[Spoiler Alert: This article contains spoilers from the "Getaway Day" episode of SEAL Team.]
Midway through Wednesday's episode of the CBS freshman drama SEAL Team, called "Getaway Day," the series took a massive and emotional shift. So we had to go straight to series star and producer David Boreanaz for an explanation of what happened, and what lies ahead when the series returns with new episodes in late February.
For the first half of Season 1, the action followed members of an elite team of Navy SEALs as they balanced their family lives with the covert military operations that they undertook around the globe. The team, led by Master Chief Special Warfare Operator Jason Hayes (played by Boreanaz), is close-knit, and they and their families support each other through the stress and strain of serving as Tier 1 military operators.
But in "Getaway Day," the team was hastily deployed to Jalalabad, Afghanistan, following the death of an entire team of fellow SEALs.
"The whole family's been shattered," says Boreanaz, after the loss of Echo team. Their deaths moved up Bravo team's deployment date by a number of weeks and forced weeks of the characters' "goodbye rituals" to be compressed into a matter of hours.
Deployment to Afghanistan means that for now, the series will no longer show the families left behind in Virginia Beach.
"It's emotional. It's real. It's live. It's gonna pull some heartstrings, but also, it gives insight into a whole other show for us," says Boreanaz. "I think deployment offers an opportunity for us to show that there are two-shows-in-one here, which I think is pretty exciting and cool in network television."
Transforming the series' setting from life "at-home" to "in-the-field" has always been a part of the plan, says Boreanaz.
"We always wanted this show to not be a 'mission of the week' series," he says. "The deployment gives more insight into their lives. What they do overseas, where they are, how they deal with being in Afghanistan and fighting a war. It exposes a lot about the characters and their relationships: how they interact and deal with stress; how they handle missing their family members; and what they attach themselves to, that moves their characters forward."
So, for now, we say goodbye to Alana (Michaela McManus), Naima (Prisa Fakhri) and the rest of the team's loved ones.
Boreanaz says that deployment adds new elements for the series' actors. "You're just dealing with a lot of dirt," he laughs, then adds, "A different environment breeds a different response to how the characters act, and that's the fun part of it. And for me, it's an exploration [into] how we take on this role and how deployment effects us going in, during, and coming out."
The actor says that a focus of the remaining Season 1 episodes will be uncovering who killed Echo team.
"Bravo team's gonna take the reigns, and with that comes a huge responsibility in going after those people that took out their brothers," he reveals. "It's intense. That's gonna be a big fight."
And, as always, Boreanaz says his goal of the series is to honor the real men and women who serve our country in these dangerous and underappreciated roles.
"I want to shed light—really shed light—on what these guys and girls do," he explains. "You don't know what goes on with these Tier 1 operators. How they take out people, and how they stop something from happening; the sacrifices that they give, the loss. It's huge, and that's what's exciting about doing this deployment [storyline]. I hope that it sheds light and heals people, and leads to an understanding of what soldiers go through when they come back after being on deployment. It's shedding a light into an area that is very dark, and I think that's a good thing."
SEAL Team returns with new episodes at a special time (10/9c) on Feb. 28, after the two-hour season premiere of Survivor: Ghost Island. In that night's episode "Call Out," Jason and the Bravo team settle into deployment life and get closer to discovering who ambushed Echo Team.
SEAL Team returns with new episodes at special time Wednesday, Feb. 28, 10/9c, CBS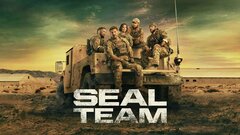 Powered by