David Boreanaz Reflects on His 20-Year Television Career
If you want to make a long-running hit show, here's a bit of advice: Cast David Boreanaz in it. On March 10, 1997, the actor made his TV debut on the pilot episode of Buffy the Vampire Slayer—kicking off what would become a nonstop sweep of successful projects. His seven-year stint as Buffy's brooding vampire beau secured his place in pop-culture history and led to the spinoff Angel, which lasted five seasons. Next: 12 (count 'em!) seasons as Special Agent Seeley Booth on Fox's quirky crime procedural Bones. Now the 48-year-old has been recruited yet again to tackle the role of Navy SEAL Tier One leader Jason Hayes on CBS's new fall drama SEAL Team. Oh, and did we mention that he's a triple threat? He's been directing since Angel and producing since Bones, and has new projects in the works. Here, Boreanaz dissects the lucky streak that's lasted two decades and counting.
Before Buffy, I did odd jobs within the industry. I was a production assistant on a film, I did some theater. It was one of the most exhilarating—and hard—periods in my career. But I learned what I could, and I got better.
The initial description for Angel was, "He's like a prizefighter: You can knock him down, but he'll always get back up." So I really focused on that for character development. With television, you can take nothing for granted. You have to find those precious moments for a character that you earn at the end of an episode, arc or journey. That's what I really tap into, and what keeps me engaged.
When the opportunity came along to do a spinoff about Angel, I thought, "You have to take chances, right?" The show was very different than Buffy—it was a little more adult-oriented—and we were able to make an imprint. I'm still so proud of what we were able to accomplish with some of our episodes, especially given the amount of green-screen work, makeup, special effects and stunts. When George Lucas comes down to your set for a visit and is taken in by it, you're doing something right!
Coming off of my first two shows, I felt like I was better equipped to be part of the collaborative process moving forward. I grew a lot working on Bones, and creator Hart Hanson was really the person who allowed me to open up creatively. He wasn't the type of showrunner who had the attitude of, "It's my way or the highway." Executive producer–director Ian Toynton was also very influential, including when it came to me getting more involved with directing.
The fact that I direct and produce now makes things challenging, in a good way. It's tough to be able to compartmentalize everything that's going on at times, but I enjoy it. I almost equate it to being in a hockey game—it's that fast. You have to make the right decisions, then be responsible for them. During the moments when you're shooting a scene, you have to figure out the blocking or how you're going to relate to the actors. Learning to do all of that has actually been a huge asset for me with my own acting process.
I have an acting coach, Ivana Chubbuck, who's my go-to guru. I've been working with her for years, and Emily [Deschanel] and I both worked with her on Bones. She helps me to find things within my characters that can be relevant to my own life, which is how I work best. I've incorporated bits of myself into everyone I've played over the years. Angel was a bit cold, so what I brought to him was more prop-oriented—I was always twirling something in my hand. Actually, I think I've brought that to every character! Booth was charming—he could do a half-hour comedy in his own head and still maintain a strong sense of his relationship with Brennan, which I related to. With SEAL Team's Jason, I'm still learning. So far, his strength is being able to understand a situation and attack it. That's something I do very well.
I haven't ever taken a real hiatus because, for me, the break comes from getting new material. If you're having a great time, the hours go by fast. I've been able to achieve a lot in my first two decades in this industry, but I take this milestone as a sign to work harder rather than a chance to reflect back. And this is just the start. There's a lot more to come. —As told to Marisa Roffman
SEAL Team, Wednesdays, 9/8c, CBS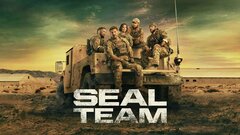 Powered by