'The X-Files' Episode 5: Will Scully's Mysterious Visitor Lead to a Reunion With William? (VIDEO)
The X-Files is diving back into the William mystery in Wednesday's episode, "Ghouli." "It's been on all our minds: What happened to their son?" executive producer James Wong said on a break from filming the hour.
The January 31 episode kicks off with two teenagers who find themselves attacked… and Scully (Gillian Anderson) is drawn into the case via a mysterious late night visitor. (Check out an exclusive clip of the scene below.) The situation spirals, as she and Mulder (David Duchovny) realize there could be a tie to their MIA son, William.
See Also
The stars and executive producers reveal what's in store for the Fox drama.
"In the last event series, we touched on that; my episode touched on that through their fantasy: what they thought their lives would be like with their child," points out Wong, who wrote/directed this week's installment. "So I wanted to take the next step. I love the idea of the emotional qualities of that story: a son missing from your life for his whole life, really. But…[now] he could be in danger." And things will get intense: "Scully goes through the wringer."
For Wong, who has been a steady presence on American Horror Story (among other projects) after his time on X-Files, "Ghouli" was only the second time he'd revisited these characters in the past two decades. (He penned 15 episodes during the show's original run.) "It's interesting, because I was there in the beginning, and then there was a whole chunk I missed; I wasn't really involved as the show grew older," he notes. "For me, their characters are formed in the beginning of the show. So when we talked about these new series, we had to talk a lot to [executive producers] Chris [Carter] and Glen [Morgan] to discuss what their path would be. They obviously had a passion for what they did, which is why they come back to it."
See Also
Where is their missing son?
"It's a tragedy, in a way, for Mulder," he continues. "He's stuck in this place. He hasn't moved forward in his career really, but he's completely concentrating on this one thing. I feel like, even though he's grown older, he's still obsessed by the same obsessions. And I think Scully is a great partner for him, because I think she's in love with him that way. She had a different career as a doctor, but she came back, because this is so important to him—she's coming back to be there for him."
Throughout the years, Wong has directed a number of features—including two Final Destination films—and episodes of television. However, with directing X-Files, "it's a different kind of storytelling," he says. "The basic thing you have is David and Gillian. They're foundational. When you think about the show, it's really about telling the story through their eyes. Because of that, it dictates how things are shot and how it feels. These two, these pillars, set you in the right direction."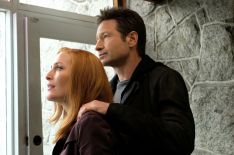 See Also
The video previews what's to come in the next five episodes.
The writer/director has his own appreciation of getting to return to the series (again) after it playing such a pivotal role in his career. "I feel like I'm back home," he concludes. "It's a show that really changed my career. And it's a show I loved. That's why I wanted to be a part of it [again]. Continuing after 25 years is really a testament to the creative spark Chris has. That this thing, it didn't die. Lots of things have. Lots of shows… you can't go back home. But with this one, the world is messed up in its own way, and messed up in ways you can explore on The X-Files."
Check out an exclusive scene from "Ghouli":
The X-Files, Wednesdays, 8/7c, Fox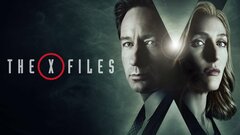 Powered by