Great Caesar's Ghost! It's Your First Look at the 'Krypton' Key Art
Boom goes the… planet?
Hot on the heels of the news that DC Comics' digital service is developing Metropolis, the year's other Superman prequel, Krypton, finally has its official key art for Season 1 and it is, well, super cool!
Set on the famously-doomed planet 200 years before the birth of Superman (aka Kal-El), the lavish Syfy drama stars Cameron Cuffe as Seg-El, the Man of Steel's grandfather. Seg is the son of a disgraced scientist whose research into time travel has cost the family their standing in society.
His life is further complicated when he's pulled into a power struggle among the planet's elite classes. Not to mention, there's also the sudden arrival of Adam Strange (Shaun Sipos), a hero from the future who has some really bad news about the hottie's bloodline.
It's all very Game of Thrones meets Battlestar Galactica and from the early peeks we've gotten at the pilot, it looks like a lot of gorgeous nerdy action fun.
Krypton, premieres March 21, Syfy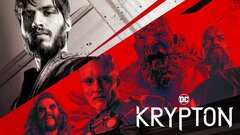 Krypton
where to stream
Powered by