Roush Review: 'Mozart in the Jungle' Explores Uncharted Rom-Com Territory
The rapturous melody underscoring the fourth season of this entrancing series is a symphony of love, as Mozart in the Jungle blossoms into a full-fledged bittersweet romcom likely to sweep you off your feet with its exotic passions.
Mercurial conductor Rodrigo (the adorably impish Gael García Bernal) and oboist protégée Hailey (spunky Lola Kirke) are now an official couple, which presents one major complication: Can she emerge into her own spotlight as a fledging conductor while being seen as the maestro's girlfriend?
The situation escalates when they travel to Japan for several glorious episodes, and relationships are redefined during a mind-altering tea ceremony. Rodrigo's encounter with a robotic version of his muse Mozart, a Wall-E savant named WAM (for Wolfgang Amadeus), is also one for the ages.
And you won't believe whose ghost Rodrigo communes with when Mozart abandons him. (Think kitsch.) Jungle's charms are plentiful, including vivid guest roles this season by Masi Oka and Michael Emerson, but it's Rodrigo, perfectly described as a "musical, magical elf," who makes it all sing.
Mozart in the Jungle, Season Premiere, Friday, Feb. 16, Amazon Prime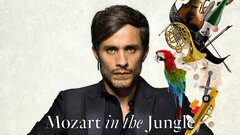 Powered by