Is Winter Coming to 'Schitt's Creek'? The Cast Talks About Season 4 of the Pop Hit (VIDEO)
It is finally time for another season of Pop's oddball comedy Schitt's Creek. Starring father and son Eugene Levy and Daniel Levy, alongside Catherine O'Hara, Annie Murphy and Emily Hampshire, the series follows the lives of the Rose family, who are hilariously misplaced in the "hick" town of the title.
This week, we were on hand as the Levys, Murphy and Hampshire all sat down with BUILD Series to discuss Season 4, and their ever-growing fan base. Schitt's Creek Season 4 is sure to elicit laughter, based on what these cast members had to say.
Since the show's premiere in 2015, its popularity has only grown, and its addition to Netflix might have something to do with that. "It helps when you have really strong fan support," Eugene Levy said of the growing viewership. "You want to give them the best show you possibly can, so everybody works as hard as they can."
See Also
Funnyman Eugene Levy (Best in Show) and his son Daniel (Admission) are collaborating for the first time as the stars and executive producers of Schitt's Creek, Pop's first foray into scripted TV.
All of this hard work has apparently made Season 4 the show's best in Dan Levy's eyes, "I think our fourth is our best season yet," he said. "It's also the most emotional, in a way. Because we care so much and we're able to really capitalize on that and tell meaningful stories with these characters, in ways we've never been able to before."
The series was a labor of love. Created by Dan and Eugene, Schitt's Creek is a family affair (Sarah Levy, Eugene's daughter and Dan's sister, also acts in the show). Eugene reflected on the meaningful project, saying that, "it's pretty amazing, Season 4. That's a long way from Dan coming up to me six years ago saying, 'Do you want to work with me on an idea for a show?'"
Of course, with so many family members on set, it can set the tone for the dynamic—whether that's for better or worse is up to the Levys, but Eugene can't deny his pride. "It's still kind of a surreal world. Working with [Dan and Sarah] has made me so proud." Even if you aren't related to the Levys, you feel like family, according to Hampshire, who agreed that it feels like a family on the set even for herself.
When it comes to Season 4, there is plenty to look forward to from relationships and character development—and even the possibility of winter?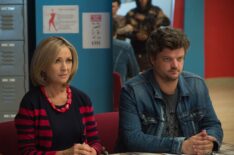 See Also
'Let's Get Physical' star Jane Seymour got our hearts pumping when she answered an aerobics-themed version of Celebrity 5 Questions.
"There's an interesting new side to each of the family members that you haven't seen before," Murphy said of the Roses, who are still living in the small town's motel. After spending so much time trying to get out of Schitt's Creek, it seems like the formerly rich family is settling into their new normal. "The idea of, 'We have to get out of this town,' is not at the front of everybody's brains," said Eugene.
Well, except for Catherine O'Hara's Moira, that is. The former soap opera star is definitely the most outrageous in this cast of crazy characters, with a bottomless wig and costume wardrobe. As part of the town council, Moira has tried to make some changes that would benefit herself, but this season she will be turning that energy towards her family. "Moira is showing little sparks of being a very responsible kind of mother," said Eugene, to which Dan replied, "'very responsible' is a bit of a stretch. When it counts, she's there."
Moira's maternal nature is definitely something to look forward to, but when we asked the cast about upcoming moments they are excited for fans to see, we got some interesting answers.
"The other night, somebody asked us about the weather in Schitt's Creek," says Hampshire, "how great it is all the time, and [they] asked if there would ever be any winter there. And I'm not saying there is gonna be, I'm just saying that if there was, I would be wearing the cutest hat." This forecast definitely would be a game-changer for the show, since every season has perpetually perfect weather, almost like a constant summer.
Hampshire's reluctance to share potential spoilers such as this detail were obvious as Dan observed the conversation. "I'll just get really mad if you spill anything," he quipped prior to Hampshire's response.
Treading carefully after Hampshire, Murphy said that, "there are a couple of blasts from the past this season." No details on who those blasts from the past may be, but fans are sure to be satisfied.
"We don't have huge 'celebrity' sort of guest stars. The people that we bring on are people from the past," Dan elaborated. "So there are a couple strangers that show up from [the Roses'] past this season."
These details and more from the interview can be seen in the BUILD Series video below.
Schitt's Creek, Season 4 Premiere, Wednesday, Jan. 24, 8/7c, Pop.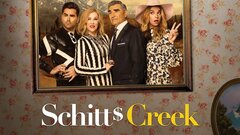 Powered by