5 Questions: 'Let's Get Physical' Star Jane Seymour Reveals Her '80s Aerobics Connection
On Jan. 24, you'll laugh so hard you'll break a sweat in Pop's biting new comedy Let's Get Physical. Matt Jones stars as Joe, a middle-aged slacker who is tasked with upholding his father's legacy as the "Godfather of Aerobics" by winning a national aerobics competition. Jane Seymour also stars in the comedy as Joe's sassy mom, a former pageant queen whose body is as great an asset as her mind.
Seymour relishes showing off her funny side as a hilarious and sexy master manipulator, revealing to us that "As the series goes on, they really made me even funnier and funnier!"
See Also
The 'Dr. Quinn, Medicine Woman' alum is back on TV.
And the former Bond girl got our hearts pumping when she answered our "5 Questions."
1. You are well-known for your dramatic roles. How does it feel to stretch your comedy muscles?
Jane Seymour: I think I'm a natural comedian, but somehow segued into playing straight roles and romantic roles. … Peter Hall, the director of [the play] Amadeus, once said to me that I was a character actress in spite of myself.
2. How quickly did you and Matt Jones form a mother/son bond?
Matt Jones and I were friends before; he worked on the thing I did for Hallmark years ago called Perfectly Prudence. I already feel a sort of maternal feeling towards him, so I never had to act that. I knew exactly how to annoy him.
3. Let's Get Physical takes a lovingly farcical look at the '80s fitness craze; do you have fun memories from that time?
Oh my God, I'm on the cover of the Jane Fonda pregnancy workout! I mean, how close do you need to get?
I now know Jane Fonda very well. [laughs] And when we did the cover shoot, she had no idea who was going to be in the cover shoot. She just knew it was going to be people that paid to go and do the pregnancy workout at the gym: a woman who'd had a baby, someone that was still pregnant — and that was me. She did a double take when we were doing the pictures. She said, "Aren't you an actress?" and I sheepishly went, "Yes," because I was pretending not to be. I was pretending to be another person who was paying to go to the gym, and she busted me.
Then, Olivia Newton-John is a really close friend of mine—one of my closest friends. So when we were doing the photo shoot at the end of [filming] Let's Get Physical, I looked at the pictures and I thought "Oh my gosh, I can't believe it." Without thinking about it, I sort of morphed myself into her look. You know, that blonde bob.
4. Did you have any trepidation about wearing spandex?
I wasn't really fretting over that. But I have to admit that the spandex look was hilarious. And I love sort of the high-cut leotard thing, and the little leg warmers. It really took me way back.
5. The series also features '80s flashbacks, complete with awesome hair. Did you enjoy the blast to the past?
We found old photographs of me on the covers of all kinds of magazines, and what I used to do in those days was curl my hair. I had naturally straight hair, but I made it frizzy, like really crazy curly and crazy long. So for one of the flashbacks, I found this wonderful, long, curly wig, which I stuck on with the headband and everything. I looked ridiculous. I looked just like I did back in the day!
Let's Get Physical, Wednesdays beginning Jan. 24 at 8:30/7:30c, Pop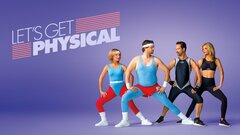 Powered by