'Breaking Bad' 10th Anniversary: Creator Vince Gilligan on the Show's Legacy
Ten years ago, mild-mannered high school teacher Walter White (Bryan Cranston) found out he had terminal cancer…so he opted to produce and sell meth with his former student Jesse Pinkman (Aaron Paul). And with that, Breaking Bad took off.
The series was a resounding success: in addition to being critically acclaimed, the AMC show won 16 Primetime Emmy awards, including multiple acting wins for Cranston, Paul, and Anna Gunn (who played Skyler); it also spawned the success spinoff Better Call Saul.
In honor of the tenth anniversary of the pilot's debut, TV Insider spoke with series creator Vince Gilligan about the show's legacy, the show's journey, and more.
TV Insider: What does the tenth anniversary of the pilot mean to you?
Vince: Gilligan: It means so much. I can't believe how quickly time has flown. I can't remember who in our office told me this—it was probably Melissa Bernstein, our wonderful executive producer—but one day, not too long ago, she was like, "Tenth anniversary coming up." And I was like, "For what?" I had no idea of how much time had passed since we were shooting that pilot episode. Actually, the pilot episode is a little more than 10 years passed. But January 20, 2008 is the date that Breaking Bad [debuted]…I can't believe there's that much water under the bridge; that that much time has passed.
The best thing about it, and the thing I find even more hard to fathom, is people all over the world know what that means. Still to this day, I still have a hard time getting my brain around the fact that the show did as well as it did. That it became as well-watched and enthusiastically received as it was. So the fact that people are actually interested in this being the tenth anniversary—people outside of me and my mom and my girlfriend—that's pretty amazing. That's the part, not the passage of years, but the reception has received and continues to receive blows my mind.
You're in a unique situation because while Breaking Bad ended years ago, the universe continues on with Better Call Saul. How much do you still think about Breaking Bad in your everyday life?
It's tricky, because you want to move on. But if Breaking Bad is the only thing that gets inscribed on my tombstone, I'll be very satisfied.
I think about Breaking Bad quite a lot. First of all, I'm sitting in an office right now and I'm looking at a whole bunch of bookshelves that are covered in an amazing array of Breaking Bad merchandise items. So every day I have that staring me in the face when I sit down and try to work on something. I never get too far from it in my daily life, and that's absolutely fine with me.
You clearly had an extraordinary cast and creative team at your disposal. What was the best part of that collaboration?
Starting with Bryan Cranston, the the actors just created characters. We wrote characters; I had certain characteristics and qualities in mind as I was writing the characters before the show was ever cast. But what these actors brought to these characters is incalculable. The show would have been so limited in breadth and depth if I had animated this thing; if these people hadn't brought all of these qualities into these characters they portrayed. I can't even put into words how much Bryan, Aaron, and all the other actors added to the show.
And then speaking of the folks who were behind the cameras, the directors, the writers, the producers, from top to bottom, it just really made this show something it wouldn't have been if it was me in an empty room in a vacuum conceiving of it. That's what I love about television. It's so very collaborative. If you're lucky and hire the most talented people, put them in a writers' room or on a set and just let them go, great things can happen. Breaking Bad is proof of that.
In hindsight, what do you feel the legacy of Breaking Bad is?
I don't know if I'm the best person to say what the legacy of the show is. I'm trying to think of an answer that doesn't sound ridiculous or self-serving.
As a legacy, I love that Breaking Bad helped open the ability for very serialized storytelling on television. I don't want to give the impression that Breaking Bad created serialized television, because most certainly it didn't; serialized TV existed for decades before Breaking Bad ever came to pass. But I do recall, when I was working on network TV twenty years ago, when I was working on X-Files, conventional wisdom was that shows needed to be episodic so it would be helpful in terms of repeatability. They wouldn't have to watch them in any particular order. Conventional wisdom held that you should not do a very serialized show. Breaking Bad was in this newer age of television. It was one of the original shows to be very hyper serialized. I think that's kind of a bloodless answer. I don't know how to answer that without sounding like an a–hole. I'm going to leave the legacy of Breaking Bad to other people. [Laughs.]
Do you have a favorite episode?
I am so proud of all 62 episodes. Having to pick a favorite would be like having to pick a favorite child, I imagine. Having said that, our 60th episode, the third from the finale was one called "Ozymandias." It was written by Moira Walley-Beckett and filmed by Rian Johnson. I'm as proud of that episode as I could possibly be. I think that is a fan favorite and rightly so. It does spring to mind when I'm asked about my favorite. It's just fantastic writing, fantastic acting, fantastic directing. It just made me so proud to be a part of the show, watching that episode come to fruition and watching it when it was all shot, edited and mixed…I just remember being overwhelmed by how good it was in terms of the work everyone had done. I say that more as a fan, because I didn't write or direct that one. I certainly had a hand in it in the collaborative way the show was. But that one was not written or directed by me, so I feel a little more comfortable saying, "Goddamn, that one was good."
One of the fun legacies of the show has been the continued pop culture references. Do you have a personal favorite shout out?
In 2013, the year the show came to an end, it was just everywhere you looked. It all washed over me, in the best possible way. I've got to say, Zootopia—the very idea that a show about a murderous meth cook could wind up getting a shout out in a Disney animated feature…that's pretty special. And being the subject of a Simpsons couch gag? It doesn't get much better than that!
Breaking Bad marathon, Sunday, Jan. 21, 6/5c, AMC
Breaking Bad is also available to stream on Hulu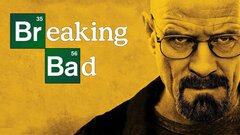 Powered by