'Breaking Bad' Turns 10: A Look Back at Our Introduction to Walter White, and the Uncertain Early Days of a TV Classic
In mid-November of 2007, I found myself perched on a low brick wall in the backyard of a cozy ranch home in Albuquerque, New Mexico.
In front of me, seated at an aging patio table, were actors Bryan Cranston—handsome in a subdued way that rendered him barely recognizable from his days as slacker dad Hal on Malcolm In The Middle—and Dean Norris, both puffing on (real) Cuban cigars and fiddling with glasses of (fake) scotch. Next to me: The X-Files writer/executive producer Vince Gilligan, grinning broadly and snapping photo after photo of the action.
It was my first-ever set visit. And it was the set of Breaking Bad, Gilligan's brilliant tale of terminally ill chemistry teacher Walter Hartwell White's metamorphosis, as Gilligan famously promised, "from Mr. Chips to Scarface."
As Cranston and Norris perfected a scene in which spankin' new meth-maker Walter nervously hosts his DEA agent brother-in-law Hank Shrader, Gilligan gently nudged my arm. "Isn't this great?!" he whispered.
It was. But neither of us had any idea just how much.
Though the show would become iconic—an award-magnet pop-culture phenomenon borne of Gilligan's way with making an out-there tale relatably human and Cranston's endless range of expression—on this day, most of the cast and creators wondered if Bad would even make it to the screen. The Writers Guild of America strike was turning the entertainment industry on its ear and Breaking Bad—deemed too edgy by the premium cable networks but salvaged by upstart AMC—saw its episode order cut from nine to seven, with no announced premiere date.
"That's the thing that drew me to this, is not only is it so well written, but his idea for this is to actually metamorphosize a person and have him completely change the kind of person he is from the beginning of the series to the end of the series," Cranston said at the time.
"It takes time to do that, so hopefully we'll have five years or six years. It's a lot of fun and very rewarding artistically and emotionally for us. I just hope that we're able to get there and stay on the air and do it in the justifiable time it takes to really see a transformation of this person, and not have to truncate our stories."
Having seen the wildly entertaining pilot—a piece of television unlike anything I'd seen in 10 years of writing about the industry—prior to my visit, I hoped so, too. Gilligan and his cast couldn't assure me enough that what followed would be unforgettable. And it was.
Saturday, Jan. 20, 2018, marks the 10th anniversary of Breaking Bad's debut. On the eve of that milestone, I decided to go back and watch "Pilot" again to see if, after another decade spent watching the industry shift in a delightfully Bad direction, I felt the same sense of glee, an instant addiction worthy of White's infamous "Blue Sky" methamphetamine.
No question about it.
From the pilot's opening montage of Cranston in undies and a gas mask, frantically steering a trashed RV, to the closing shot of, well, Cranston in his undies with the now-crashed RV, Gilligan's introduction to an introverted husband's last-stand plan to spare his pregnant wife, physically-challenged teenage son and unborn baby girl the fallout of a lifetime spent on autopilot remains an incisively witty, thought-provoking gem. We needed to know what happened next.
We were just getting to know this cast, these characters, but, as White would say, it's just basic chemistry.
Starting with Cranston's overeducated, under-accomplished nervous tic of a high school teacher and Aaron Paul's wide-eyed, enterprising slacker Jesse Pinkman, with whom Walt forms the perversely logical, wildly lucrative, oh-so-illegal partnership. A partnership that would lead him down a path of destructive but liberating self-discovery, while introducing TV audiences to a roster of memorable characters from Saul Goodman to Mike Ehrmentraut to Gus Fring to the Salamanca family.
Aware that debt is all he has to leave his family, White observes his knucklehead former student, calling himself Captain Cook, making a killing at White's own craft. Pinkman realizes there's something very different about the dude who failed him a few years back.
"You are not how I remember you from class," Pinkman says. "I mean, not at all. … Some straight like you, giant stick up his ass, all of a sudden at like age what? Sixty? He's just going to break bad? It's weird, is all. It doesn't compute."
"I'm awake," White tells him. And we were off to the races. Starting with what, for most of us, was our first look at what really goes down in a meth lab, courtesy of the real DEA teaching Cranston and Paul how to believably whip up a batch.
Another Breaking Bad fun fact: Gilligan would lament Paul's aptly feral but brilliantly white smile as a rare ball-drop in accuracy, since years of drug use would have left its mark on the kid's teeth. And just one more: Paul spent a pie date with me and the show's publicist telling us about an Albuquerque local he'd spotted—a comely young woman he swore was tattooed light blue from head-to-toe. "If I see her again, I'm going to ask her to marry me!" he beamed.
While the show quickly gained  reputation as "the meth show," Gilligan scrupulously avoided making light of its fearless melange of sensitive subject matters, most notably the country's most devastating drug scourge.
"The thing about our show is that Walt is in no way, shape or form making good choices, nor are we ever led to think he is," Gilligan told me. "He is making a series of fundamentally terrible choices … and he makes that first choice, to cook meth, initially out of a sense of rage."
And, in Norris' Hank, Gilligan crafted someone awfully close to home able to bring the whole thing down.
The Breaking Bad pilot also gave us our first look at the mouthy, macho, epithet-spewing rock collector,  the perfect antithesis for a guy whose every word and movement seemed carefully considered. And then reconsidered. Norris joked that he'd made a living playing "ABC" guys—"You know, FBI, CIA"—but he, and viewers, hadn't seen a TV cop like this guy.
Since Breaking Bad was a story of family at its core, we also ventured into the White home to meet Walt's clear-eyed, devoted wife Skyler (Anna Gunn), an expert at calling off bill collectors while attempting to build an eBay empire to pad Walt's teacher's salary, and his wry son Walter Junior (RJ Mitte, a young actor who lives with cerebral palsy).
So when Walt Jr. is the target of local bullies, we— and his family—get another look at the edge illness and circumstance have given the former milquetoast. And just how much he has to lose.
"The greatest thing about Vince's story sensibility is that he can see darkness and humor at the same time, and switch back and forth on a dime," said Gunn, the former Deadwood actress who celebrated the birth of her second child by climbing back into maternity clothes as the expectant homemaker. "But it doesn't seem unrealistic. It seems like life."
By the second episode, we had a fine idea just exactly how creative Gilligan would get in crafting his morality-tweaking tale, in his unabashedly bold storytelling, in the jaw-dropping visual elements of the show and its wholly unique players.
But the Breaking Bad pilot served as notice that TV would never be the same, and neither would we as we watched a man come alive even as he's dying; as we wondered who we'd be with months to live and a certain skills set; as even middle-age, middle-class white ladies became fans of Albuquerque's newest drug kingpin for that reason.
Watching it again—and again— doesn't dilute its potency.
AMC continues to air Breaking Bad 10th anniversary marathons weekends in January. Enjoy classic episodes Saturday, Jan. 20, from 9:18am-3pm; Sunday, Jan. 21, from 10:49am-5:30pm; Saturday, Jan. 27, from 9:50am-3:30pm; and Sunday, Jan. 28, from 9:34am-3:30pm. (All times Eastern)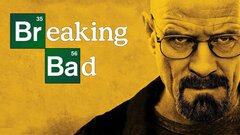 Powered by