'Breaking Bad' 10 Years Later: 5 Episodes Worth a Rewatch
It's Breaking Bad's anniversary, bitch! The iconic drama—about chemistry teacher Walter White (Bryan Cranston) and his former student Jesse Pinkman (Aaron Paul) becoming unlikely crystal meth kingpins—made its debut on January 20, 2008.
During its run, the show picked up 16 Emmy Awards and is now widely considered one of the best series ever. Says creator Vince Gilligan, "If you're lucky and hire the most talented people, put them in a writers' room or on a set and just let them go, great things can happen. Breaking Bad is proof of that."
AMC is running a series-long marathon, with Season 5 kicking off Sunday, January 21.
In honor of the occasion, scroll down for 5 episodes worth rewatching, all available to stream on Netflix.
Pilot (Season 1, Episode 1) *Cranston's pick
Once upon a time, Walter was a quiet family man who taught high school. Then a terminal cancer diagnosis leaves him desperate for money. So he partners up with his former student Jesse to produce and sell meth. "The first is always the most critical episode, because it introduces everyone," Cranston says. "It's also the turning point in Walter: He made a decision to become someone he wasn't and started on the slippery slope."
Fly (Season 3, Episode 10)
It's Walt and Jesse versus a pesky fly in their massive meth lab. The insect threatens their product, but its impact on their sanity allows for the duo to get unusually candid—and Walt nearly confesses his role in Jesse's girlfriend's death.
Cornered (Season 4, Episode 6)
With dangerous adversaries closing in, Walter's wife, Skyler (Anna Gunn), worries about their family's safety. Walt rejects that, delivering a must-see speech about how he is the real threat.
Face Off (Season 4, Episode 13)
Spoiler alert: The title is literal. After Walt is unsuccessful in taking out his boss/foe Gus (Giancarlo Esposito), he recruits Gus's enemy Hector (Mark Margolis) to help him do the job. The result is one of the most memorable scenes of the entire series.
Ozymandias (Season 5, Episode 14) *Gilligan's pick
"I'm as proud of that episode as I could possibly be," Gilligan gushes of the hour, which sees Walt destroying the last of his familial relations in extraordinary fashion. Fun fact: This episode was helmed by Stars Wars: The Last Jedi director Rian Johnson.
Breaking Bad marathon, Sunday, Jan. 21, 6/5c, AMC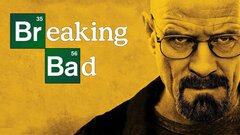 Powered by