'The Good Place' Creator Mike Schur Reflects on Season 2's Best Twists
Oh, shirtballs! After last year's game-changing Good Place finale twist, there's no telling what creator Mike Schur has in store for Thursday night's season ender.
Before he possibly blows up the series once again, Schur walks us through some of our favorite Season 2 moments.
The 800-Plus Reboots ("Dance Dance Resolution")
When human Eleanor (Kristen Bell, above) figures out the Good Place is really the Bad Place, devilish architect Michael (Ted Danson) erases her and her friends' memories and creates some fresh hell for the characters again…and again…and again.… But every reset turns out to be a spectacular failure—Eleanor almost always deduces that the "Good Place" is not really that good. Schur says he loved the idea that Michael was so frustrated he just started throwing stuff at the wall. "I like that at one point he goes, 'What if Eleanor's soulmate is a golden retriever?'"
Michael Joins the Team ("Team Cockroach")
Having been outsmarted by "human cockroaches" Eleanor, Jason (Manny Jacinto), Chidi (William Jackson Harper) and Tahani (Jameela Jamil) so many times, Michael decides that if you can't beat them, you might as well join them. "Going into this year, we decided 'This is Ted's season,'" Schur says, explaining he wanted to give Michael a redemption arc similar to the one Eleanor got in Season 1.
Michael's Roast ("Leap to Faith")
Working as a double agent, Michael performs a comedy roast of his human allies in front of the devils in the Bad Place. Schur says he was looking for a way to make Eleanor and Co. question their alliance with Michael—and what's more evil than a roast? "I think roasts are the worst thing," Schur says. "They're an unpleasant relic from another era. We needed Michael to exhibit cruelty. The episode is about their struggle to believe he's still on their side."
The Good Place, Season Finale, Thursday, Feb. 1, 8:30/7:30c, NBC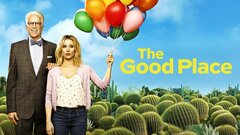 Powered by