Jane Seymour Looks Back at Favorite Roles and Teases New Series 'Let's Get Physical'
Two decades after signing off as the titular frontier hero on Dr. Quinn, Medicine Woman, Jane Seymour is taking on a very different series.
On the Pop comedy Let's Get Physical, "we're all in Lycra and leg warmers doing aerobics!" she says. Seymour plays Janet Force, the conniving widow of a 1980s exercise guru, who manipulates her slacker son (Matt Jones) into reinvigorating the family fitness empire in the present day. It's the latest bold choice in a career studded with award-winning roles.
Seymour revisits some of those roles below:
See Also
The 'Star Trek' vet sounds off on his varied small-screen career
Battlestar Galactica (1978)
Newsreader Serina was supposed to die in the pilot of the cult ABC sci-fi show. But when the death didn't play well with test audiences, the storyline was scrapped. Serina was later frozen so the character could come back, according to Seymour. It's a plot point fans had a habit of bringing up when they ran into her at the supermarket. "They'd say, 'You're deep frozen!'" the actress recalls. "And I'd say, 'No, actually I'm looking for canned goods.'"
East of Eden (1981)
ABC's adaptation of John Steinbeck's novel earned Seymour her first Golden Globe. She played the cruel Cathy Ames, who ages from a fresh-faced 15-year-old to an arthritic woman pushing 60. "I immersed myself in it," she says. Seymour was so convincing, arthritis organizations approached her to do PSAs!
Dr. Quinn, Medicine Woman (1993–1998)
Going through a divorce, the actress (above, with costar Joe Lando) was "penniless and homeless" when she signed on to the CBS drama. Everyone around her told her it would fail. "It was a Western, it had a female lead—that would never work!" she says. "But it surprised everyone and got high ratings." (Around 14 million households tuned in.) It also got her another Golden Globe.
Jane the Virgin (2015)
"Nobody considered me a comedian until I did Wedding Crashers," Seymour says. Her hilarious turn as a seductress in the 2005 movie opened the doors to scene-stealing guest spots, such as romance novelist Amanda Elaine on the CW comedy. "I've become more of a character actress now," she says. "And that's really cool."
Let's Get Physical, Series Premiere, Wednesday, Jan. 24, 8:30/7:30c, Pop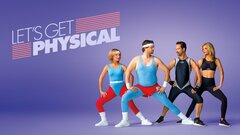 Powered by