'Crazy Ex-Girlfriend': Happy 100th Song! Watch the Best Music Videos From the Show (VIDEO)
A lot of shows, if they're lucky, get to 100 episodes. Crazy Ex-Girlfriend may be one of those rare shows that hasn't reached episode 100 (yet) but on January 12's new episode, the fabulously fun and musically inclined CW series reaches its 100th song. Applause everyone.
So what better way to celebrate this milestone of Rebecca Bunch (Rachel Bloom) and gang than to look back at some of the show's most amazing songs. Watch these top 12 music videos (more than once!) and make sure to check out the 100th song in Friday's episode.
"The Sexy Getting Ready Song"

"Settle For Me"

"You Stupid Bitch"

"Gettin' Bi"

"The Math of Love Triangles"

"We Tapped That Ass"

"Remember That We Suffered"

"Let's Have Intercourse"

"Let's Generalize About Men"

"The End of the Movie"

"A Diagnosis"

"First Penis I Saw"

Crazy Ex-Girlfriend, Fridays, 8/7c, CW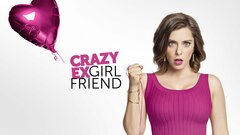 Powered by