Cameron Crowe Remembers a 'Generous' David Bowie, Talks About Developing 'Roadies'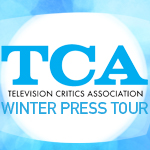 Cameron Crowe is taking his love of music to television this summer.
The Oscar-winning director of Jerry Maguire and Almost Famous has partnered with executive producers Winnie Holzman (My So-Called Life) and J.J. Abrams (Lost) for his first television project, Showtime's new one hour comedy Roadies. Starring Luke Wilson and Carla Gugino, Roadies puts the spotlight on the lives of the people behind the scenes at a rock show, documenting the trials and tribulations of roadies who live for music.
"I love music and stories where music is a character," Crowe told reporters at the Television Critic's Association press tour on Tuesday. "Over time, I was really struck by the fact that Almost Famous spoke pretty loudly to people. I wanted to revisit the world of music from a different perspective and contemporary setting with people who are behind the curtain and loving music."
RELATED: More Scoop From the Television Critics Association
Roadies will also feature appearances from real-life musicians, from classic rockers that include Eagles guitarist Joe Walsh who, according to Crowe, will play a "slightly different version of himself," and up and coming artists such as Reignwolf, who will appear in the second episode.
Crowe, who began his career as a young journalist for music magazines such as Rolling Stone and Cream as a teenager, also took time to remember the late David Bowie, who passed away on January 10 at the age of 69. When Crowe was 16, he received a phone call from Bowie, who was moving from New York to Los Angeles in the time period between his 1975 album Young Americans and 1976's Station to Station. Crowe then spent six months profiling Bowie's life and creative process, which helped jump-start his career as a music writer.
"He was the most generous and exciting interview subject that I was ever allowed a lot of time with, and that all came from David Bowie," Crowe said. "David Bowie's impact is so huge in that he presents himself now as a role model to artists that may need to remember that it's not about branding, it's about a restless need to be creative and continue to be creative. David Bowie was the anti-branding artist, and for a young musician, it's great to look at Bowie and see the seismic effect he's had on people because he always shook it up and always served the gods of creativity."