Luke Wilson on Being 'Roadies' Go-To Guy
On Roadies, Showtime's new series from Cameron Crowe (Almost Famous) about the folks working behind the scenes on the rock 'n' roll concert circuit, Luke Wilson plays Bill, a beleaguered tour manager who's struggling to keep his professional and personal lives in tune. Here, the ubiquitous actor—his credits include HBO's Enlightened and the film Legally Blonde—explains why this gig is music to his ears.
RELATED: Roadies: Cameron Crowe Comes to TV With a Behind-The-Scenes Rock Comedy
As the go-to guy for the Staton-House Band, Bill is constantly in crisis mode. What's the upside of this job?
He loves the music and he's been with the band since the beginning. He's known them the longest and cares the most. But Bill's journey will be about questioning whether he's gotten a little too old to be on the road. He is not necessarily climbing the career ladder the way he wants.
Bill and the tour's production manager, Shelli (Carla Gugino), have major chemistry even though she's married. Will they mix business with pleasure?
Honestly, even I don't know how it'll end up! There are definitely great comedic possibilities for two people with feelings for each other being stuck together. Bill and Shelli work almost like a married couple. She's witty and intelligent and really good at her job, and those attributes are very appealing to Bill.
RELATED: Rainn Wilson to Guest Star in Showtime's Roadies
You've bounced between TV and movies—any preference?
Cameron and I have talked about it, and one of the cool things about TV is you have the time to create a full picture. Sometimes in movies, you hit the best notes of a character, good or bad, but you don't get the shadings. We have 10 episodes to go from city to city, showing the dichotomies that exist. And in terms of the watercooler, there are still blockbusters like Star Wars, but TV is what people mostly talk about. It gets woven into the fabric of their lives in a way that movies just can't.
Roadies, Sundays, 10/9c, Showtime.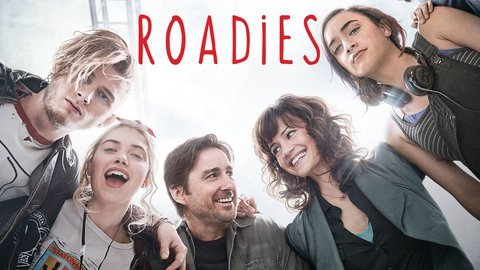 Roadies
where to stream
Powered by