Roush Review: 'Black Lightning' Separates Itself From Other Comic-Book Shows
Superhero lives matter. Which may sound glib, but Black Lightning quickly separates itself from other comic book fantasies by grounding itself not just in the harsh realities of urban life but in the ambiguities of taking action at the risk of self and family.
"I have saved more lives as a principal than I ever would have as Black Lightning," insists Jefferson Pierce (a solid Cress Williams), who almost believes it. Unlike many of his vigilante peers in The CW's DC Comics Arrowverse, Jefferson projects an authentic emotional maturity, a man among boys and supergirls.
See Also
Black power takes on an electrifying new meaning as The CW, which has built an entire universe around the Green Arrow, tries on a different shade for its newest superhero,...
He hung up the suit, and quelled his gift of harnessing electricity to zap the bad guys at great bodily cost, so he could raise his family, including a budding community activist daughter (Nafessa Williams). But a wave of gang violence threatening the safe zone of his beloved school has him wondering if he may have in fact abandoned his people. And when Jefferson gets angry, sparks literally fly.
While Lightning may sound like campy blaxploitation, it's no joke.
Black Lightning, Series Premiere Tuesday, Jan. 16, 9/8c, The CW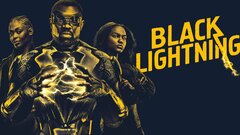 Powered by