These 'Good Girls' Are Taking Their Power Back
What happens when three seemingly average women get fed up with the limitations of their suburban, middle-class lives…and decide to stage a robbery? That's the premise of NBC's new dramedy Good Girls, starring Christina Hendricks (Mad Men), Retta (Parks and Recreation) and Mae Whitman (Parenthood).
The thing that ultimately causes these ladies to break bad: money woes. "They are pushed to the brink," executive producer Jenna Bans explains. "They need cash, and they need it fast."
For Beth (Hendricks), that's thanks to a husband (Matthew Lillard) who has not only bankrupted their family but is also having an affair. Ruby (Retta), meanwhile, can't afford the best medical procedures to treat her daughter's illness. It's Beth's ne'er-do-well sister, Annie (Whitman), who hatches the scheme to knock over the supermarket where she works so she can fight her ex for custody of their teenage daughter.
But their motivation is not all about the Benjamins, insists Bans: "It goes deeper than that. They have played by the rules their entire lives, and where did it get them? I think there is an anger underneath it that we all can relate to."
Anyone who's seen an episode of Snapped knows, though, that there's no such thing as the perfect crime. Things go sideways when Annie's slimy boss recognizes her tattoo during the robbery. Plus, the women score more loot than they expected, which leads to complications that could prove deadly.
Despite the fact that the moms find themselves in over their heads, Bans is striving for a comedic—and inspiring—tone. "These three people who are feeling really disempowered take a step forward and get their power back," she says. Never underestimate the girls next door.
Good Girls, Series Premiere, Monday, Feb. 26, 10/9c, NBC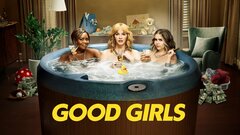 Powered by