NBC's 'Good Girls' Reveal Why They're Great at Being Bad
Good Girls, NBC's new drama with a sense of humor, kicked off NBC's day at the Television Critics Association winter press tour, with stars Christina Hendricks, Retta and Mae Whitman taking the stage alongside executive producer Jenna Bans. The dark comedy explores the lives of three suburban moms who get tired of making ends meet, take their fates in their hands, and get in over their heads.
"We pushed the envelope," admits Bans, but she says the comedy's uniquely dark tone still fits into the network realm. The series offers the relatable theme of the lengths that a parent will go to protect her family and the moral ambiguity of good and evil that arises when one's family is at stake.
See Also
The Broadway star will appear in an episode airing later this season.
The women conspire to rob the local grocery store, a seemingly victimless crime that offers a life-changing payout for each woman. Retta's character Ruby is desperate to provide her chronically ill daughter with an expensive medicine that the actress likens to "a silver bullet." Hendricks' character, Beth Boland, is desperate to save the family's home after discovering that her husband has been unfaithful and has bankrupted the family. Whitman's Annie Marks is a single mother, caught in a custody battle over her sweet, gender non-conforming daughter.
Although the women know that the robbery is illegal, Bans explains, "These characters tell themselves they're doing it for good."
Once the women pull off the robbery, the act has ramifications that snowball the women into more and more outrageous and perilous situations. Bans shares that the majority of Season 1's action will focus on the women's efforts to get out of that trouble.
Good Girls is a story of female empowerment and friendship, but the show does have male characters, who, at the onset, are described by the series' stars as "schmucks." As the series goes on, "we do de-schmuck them," says Bans, "We make them more complex and complicated," and future episodes will allow for more exploration of the men's perspective.
Despite the humor, at its core, the series is a tale of the ferocity of love for family and the strength of female friendship. And for the actresses, the series offers a chance to play against the roles they're normally offered.
On Mad Men, Hendricks played a character who also compromised her moral integrity to secure her financial future. But on Good Girls, "I feel like Beth enjoys it," Hendricks says. And as Beth becomes addicted to the power and adrenaline of a life of crime, "It becomes something just for her and it becomes a little selfish."
Whitman says that after playing a wise-beyond-her-years teen on Parenthood, she's relishing playing an adult who is impulsive and immature.
For Retta, despite success on Parks and Recreation, she 's been offered plenty of roles, "but it was the meter maid, or the receptionist, or the nurse," she says, "I was always helping people….and when Jenna asked me to do this, I was like, 'I get to be a person.' And who—outside of having a sick daughter—was happy."
See Also
After seven seasons of small-town politics, harvest festivals, and Lil' Sebastian sightings, the Pawnee team is calling it quits Tuesday night. But before Leslie Knope (Amy Poehler)...
Bans explains that the title Good Girls is ironic and goes back to her Minnesota childhood, when her parents would implore, "Be a good girl." Bans says that the phrase contradicts the image of the "perfect" wife and mother. "It's a big middle finger to the phrase," adds Hendricks.
Good Girls, Mondays beginning Feb. 26, 10/9c, NBC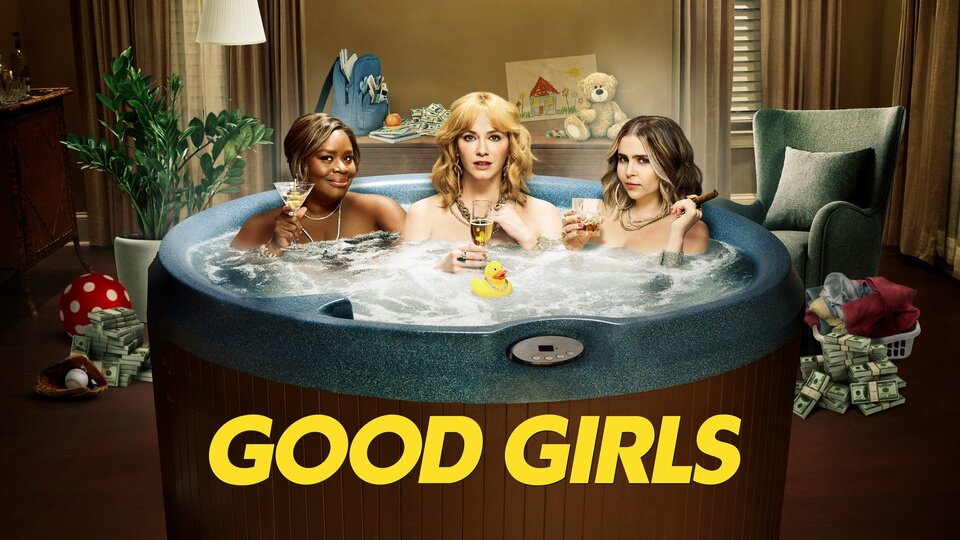 Powered by