'Blindspot': After That Shocking Midseason Finale, Creator Martin Gero Reveals What's Next
[Spoiler alert! This post contains major plot details about "City Folk Under Wraps," the Dec. 22 midseason finale episode of Blindspot. Seriously, stop now if you haven't seen the episode.]
The last Blindspot episode of 2017, "City Folk Under Wraps," seemingly closed the chapter on FBI agent Stewart's death. At the end of the episode, we learned that not only was Director Hirst (Mary Stuart Masterson) responsible for the murder, she did it herself! And to cover her tracks, she had her fixer "Van Gough" killed while in protective custody. And then, she realized that the Jane Doe task force knew what she'd done.
And since the director was on the defensive, she set up Patterson (Ashley Johnson) to take the fall for Stewart's death. As she entrapped members of the team for their involvement in Patterson's "crime," each character was allowed a moment to shine.
We also learned that Director Hirst is working for someone even more nefarious that she is, and it's Hank Crawford (David Morse), the mega-rich father of Blake (Tori Anderson)!
Of course, now the tumblers start clicking into place, and we know why Roman (Luke Mitchell) has been masquerading as sexy and sensitive Aussie Tom — to get closer to Blake's dear ol' dad. And in a TV moment that can only happen between rich, globe-trotting people, they met during a rooftop dinner.
And now, let's get to the night's biggest shocker: In the final moments of the episode, Weller (Sullivan Stapleton) sits Jane (Jaimie Alexander) down and reveals that she doesn't need to search for the daughter she gave up as an infant—she's dead, and he's the one who killed her. Let. That. Sink. In. And…cut to black.
Now that our screams of "OMG!" have died down, we've got plenty of questions. So TV Insider went straight to the source and spoke with series creator Martin Gero. We're dying to know what's going on in his head, and what's ahead for the series.
Blindspot just blew our collective minds with the revelation that [SPOILER] Weller killed Jane's daughter. How does this change everything?
Martin Gero: I think it was our biggest shocker yet. It's a pretty huge revelation, and one we've been building to all year. We've known that what Roman must have had over Weller had to have been huge, because why else would he help Roman? So, this is pretty huge, I think. It's a very, very emotional story. It's one that has been tearing Weller apart since Jane has been back. Well, not since Jane was back, but since it happened, and I'm just so excited for our fans to find out everything.
And much like we did when we revealed that Gordon was a mole last year, we really take our time next episode. We dedicate about a quarter of the next episode to just filling in the blanks of what exactly has been going on. So, yeah, that's a big deal.
What's gonna happen in that quarter of an episode?
Weller is going to tell Jane the whole story, and we'll see the events of Berlin unfold in flashbacks.
What is Jane's emotional arc going to be like as she processes this information?
Yeah. It's a tough one, because I think her and Weller have been closer than ever, and it was based—at least on her part—on complete honesty. So I think—without getting too much into the story—the backstory of how it happened is very sad and tragic, but I think the ultimate betrayal is that he didn't tell her right away. So that feels like it's going to be the hardest pill for her to swallow, and it's going to take a few episodes for them to really process it. It's going to be very difficult for them.
Now that Weller's been honest with Jane, Roman no longer has leverage over him. How does it change the dynamic between Weller and Roman, and also the Jane and Roman dynamic?
I think Jane is slowly regretting that she didn't kill Roman when she had the chance back at the end of Season 2, so this does not help that, certainly. And, you're right: Roman doesn't have anything over Weller anymore, so he's going to have to pivot a slight amount with his plan.
How did this episode set Hank Crawford up to be an important part of the story for the back half of the season?
I think a lot of people have been wondering, 'What is this whole Blake story about with Roman? Why do we keep cutting to Roman?' And then we realize this character Hank Crawford—played, I think, really masterfully by David Morse … we're so lucky to get him and have him on the show—but we realize this is where the tattoos and what's Roman been doing collide. The tattoos are all pointed at this guy, and so while the team is working Crawford from the outside, Roman has very skillfully gotten himself to the inside. And they'll be working in tandem to try to bring him down.
What makes David Morse so perfect for this role?
Well, you'll see in the upcoming episodes, but he's such a likable guy. He brings a great amount of charm to him, but he's also able to balance that kind of gravitas and danger. This is an incredibly dangerous man, and so to be able to play both sides of that is what we like. I mean, Roman has that, too. Roman is a sociopath and a murderer, but we're kind of pulling for him in a weird way. And what David is able to bring to the role is exactly that, that kind of devilish charm, where he's very watchable but also very terrifying.
What can you tell us about crafting the episode to give each character a moment to shine as an individual?
That was part of the fun of the episode, it was kind of a Ten Little Indians-type story, where one by one, they're all picked off. They have a plan, and then Patterson's arrested, and Rich is arrested. Weller's arrested.
I'm so proud of this cast. This cast is so dynamic and talented; and especially in our mid-season finale, we wanted to be able to showcase how awesome each of these characters is, and how awesome each of these actors is. So, yeah, Brendan Gall wrote this midseason finale. He always does such a spectacular job, at really carving-out great moments for everybody.
What is the story behind Rich Dotcom's mask? Is that based off of anyone that I should know?
No. [Laughs] We've seen some news stories about people trying to cross the border with these very realistic, life-like masks, and it made sense that Rich would have one. Rich is terrified that they're going to renege on his deal and try to send him back, so he would have some backup plans on how to escape the building, and this was one of them.
What's incredible about that was that was all done for real. We made a real mask on Ashley's face. There's no CG or anything. That's her in there! It's pretty incredible.
As we bid a fond farewell to Director Hirst, what can you say about Mary Stuart Masterson?
This isn't the last you'll see of Hirst; there will be a little bit more. Mary Stuart has been so incredible, and she played this part so expertly. We really needed somebody that the audience was going to fall in love with and at least seem at the beginning like a great supporter of the team, so that when this twist came, it would feel like a shock. And I think we shouldn't be surprised, but she really brought so much depth to playing the bad guy.
Where does Blindspot pick up when it comes back from its winter hiatus on January 12? Are we still in the room with Jane and Weller?
It won't pick up directly there, but, yes, you will find out everything. You'll see the whole moment that she hears this, and then Weller's explanation about why and what happened. You'll find out why Berlin has been so important, and it's heartbreaking and beautiful.
And then on top of that, we still have a case to solve, and it's one of our biggest yet. It's truly one of the most giant episodes we've ever done. We shot a large part of it in Marrakech in Morocco, and then not to mention did one of the most incredible skydiving sequences, I think, that's ever been done. So it is a bang. It's a huge, huge episode that we shot internationally, and high above the earth. And I think people will obviously love the emotion, but it's one of our best cases as well.
This season has dropped bombshell after bombshell. What else is coming?
I'm glad you feel that way, but we've got plenty more. This was a season of secrets for us. That was kind of the whole point, and with taking that two-year gap is to give us a lot of fuel coming into this season. And I think we're taking advantage of it. There's a bunch more left. Some of our biggest ever, to be honest. There are really emotional ones and some surprises. I don't know, it's hard to talk about it without giving away what they are. But, yeah, there's plenty more to come.
How does your work on the upcoming ABC drama Deception change your day-to-day with involvement with Blindspot?
Blindspot's still my number-one priority. Absolutely. But thankfully we're [in] year three, and we have an incredibly high retention on the show. There's incredible writers and producers and directors here that are able to shoulder more and more of the burden of making a show of this size, so it frees me up to help Chris Fedak deliver what I think is such a phenomenal show. I can't wait for people to see Deception.
It's an incredibly complicated show that we've thankfully been given the time to really fine-tune and figure out, because we're doing so much of the magic. For those who don't know, it's about a magician who works for the FBI. It's a really light, fun procedural, but there's so much real magic done in camera on the show. It's pretty incredible.
Well, thank you so much, Martin. I'm sure fans of Blindspot are going to like Deception because it's so fast-moving.
Absolutely. Spoiler alert: They will.
Blindspot returns with new episodes, Friday, Jan. 12, at 8/7c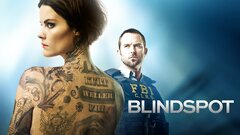 Powered by