Interrogating 'Blindspot's Jaimie Alexander and Sullivan Stapleton
He plays a stoic but sensitive FBI agent. She plays a heavily tattooed amnesiac who can kick pretty much all of our butts. And together, Sullivan Stapleton and Jaimie Alexander steamed up Blindspot all season long as Kurt Weller and Jane Doe fought, flirted and finally kissed. But how well would these two do in an interrogation? We grilled the dynamic duo individually to see what they would say about working with each other, which plot twist threw them the most and where they may be headed next season.
Who is the better morning person?
Alexander: Definitely me.
Stapleton: Definitely me. But only with a cup of really strong coffee to wake me up. Preferably Melbourne coffee; there's nothing like it.
Tattoo application aside, who takes longer in hair and makeup?
Alexander: Me, again.
Stapleton: Jaimie. I'm pretty fast. I don't need much makeup. [Laughs]
Tell us an embarrassing thing about each other.
Alexander: All my answers to this question are inappropriate!
Stapleton: What happens on Blindspot stays on Blindspot. But there's definitely a lot of laughs on our set.
RELATED: What Does Blindspot's Move Mean for Jane Doe & Company?
Which of you is better at figuring out the anagram in each episode's title?
Alexander: Neither of us. Ashley Johnson [who plays forensic scientist Patterson] is the reigning champion.
Stapleton: If anyone can solve those episode titles, it would definitely be Ashley.
What's the quickest way to make each other break during a take?
Alexander: Stare into his eyes and not blink. I think it freaks him out.
Stapleton: When I forget my lines, the words that I use—which can't be said on TV—make my costars crack up.
Of all the characters within the FBI, which one would you personally trust the most and why?
Alexander: Patterson. She's too genuine to be corrupt.
Stapleton: Dr. Borden [Ukweli Roach]. It's his job to keep patient confidentiality.
Why is Jane often sent on missions in sexy getups, but Kurt is never sent undercover at Chippendales?
Alexander: I plead the Fifth. [Laughs]
Stapleton: I think the audience has seen enough nudity from me in Strike Back and 300. Definitely more than NBC would ever allow!
RELATED: TV Guide Magazine Comic-Con Special Covers Revealed: The Flash, Supernatural, Blindspot and Supergirl
Of all the twists and turns in Season 1, which shocked you the most?
Alexander: The death of Jane's secret handler, Oscar [François Arnaud].
Stapleton: My character's father [Jay O. Sanders] saying on his deathbed that he killed Taylor Shaw.
Any shockers that you figured out before they happened?
Alexander: Most of them I never saw coming. It's intense.
Stapleton: No. I don't want to know about things too far in advance, because I think that can affect the performance before it should. I like to work things out at exactly the same time as the audience.
During breaks in filming, who is most likely to be found napping? At craft services? Checking Twitter?
Alexander: Sully eats all the time. And he does like to nap. I'd be checking Twitter or taking silly pictures with the crew.
Stapleton: I'm a great napper, but I'm also pretty good at finding the best stuff to eat at craft services. Jaimie would win at the social-media game.
RELATED: Blindspot Adds Emmy Winner Archie Panjabi
What is the craziest fan theory you've heard so far?
Alexander: That Jane is a man.
Stapleton: That Kurt Weller is evil and is the mastermind behind Jane's organization.
What is the one thing you'd like to see for each other's character in Season 2?
Alexander: I'd love to see Weller go rogue.
Stapleton: Well, since Kurt arrested Jane in the Season 1 finale, I'd like to see what's going to happen to her in prison!
Blindspot, Season Premiere, Wednesday, September 14, 8/7c, NBC.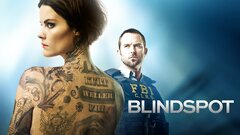 Powered by