'The Long Road Home': Noel Fisher on Portraying Tomas Young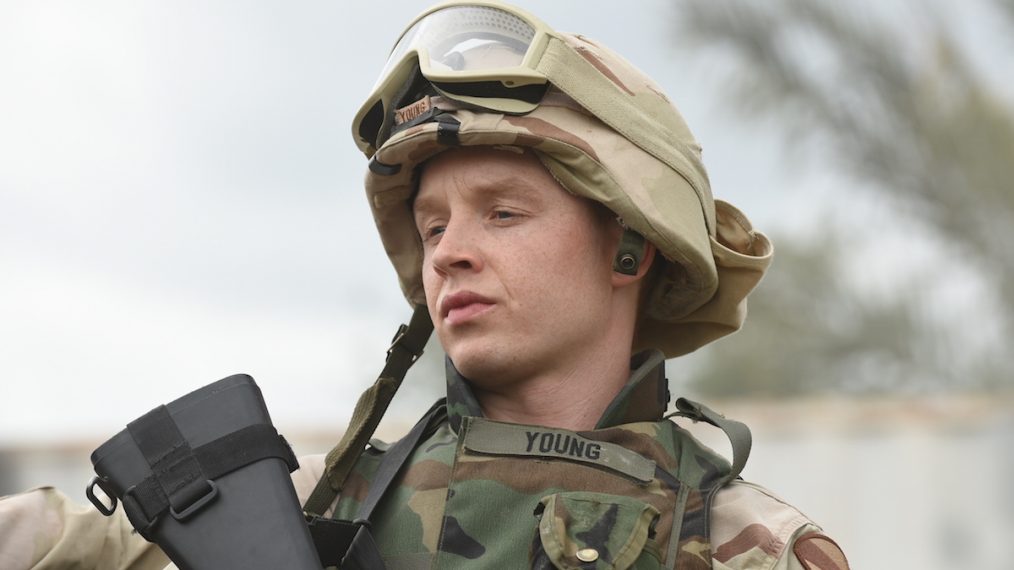 In April 2004, Tomas Young was an idealistic 24-year old Army Specialist with a small but loving family, a pretty new girlfriend and an amplified sense of patriotism fueled by the events of 9/11.
Just days after he and his Alpha Company comrades arrived in Baghdad for what they believed would be a humanitarian mission, Young found himself in an open-sided LMTV vehicle, headed into sniper territory to rescue ambushed fellow soldiers in a stunning series of events that would come to be called Black Sunday. Dizzied by the darkness, the sound and smell of gunfire and his fellow fighters' cries, Young trained his weapon on a rooftop gunman, but before he could fire, took a bullet to the shoulder that struck his spine and left him paralyzed from the chest down.
On Tuesday, National Geographic Channel's powerful Black Sunday series The Long Road Home spotlights the inexperienced young soldier who would go on to become an impactful voice in the antiwar movement. Via a powerful performance by Noel Fisher (Shameless) as Young, the hour reveals just how quickly severely wounded veterans become an afterthought in the American consciousness and even the military, sent home with devastating injuries, a hodgepodge of medicine and little, if any, emotional or financial support.
Here's a clip from Tuesday's episode, "A City Called Heaven":
We caught up with Fisher to talk about his impressions of Young, his experience on set and the lasting impact of playing the brave and outspoken young man who succumbed to the effects of his injuries in 2014.
TV Insider: Tell me about your first steps in becoming a part of this series, knowing the gravity and pedigree of the project, and the suffering, strength and lasting impact of the guy you're playing.
Noel Fisher: For the audition, I just liked the scenes and I was happy to work on something that really jumped out at me and that I thought was really well done. Then Layla, my wife, introduced me to the [Tomas Young] documentary Body of War that is on YouTube. I started watching that and that's the moment where … it's hard to verbalize the impact that documentary had on me. I immediately in awe of the kind of strength and willpower that this person had under the circumstances that he found himself in. It really put in perspective the almost impossibility of urban warfare, of modern urban warfare. It's every window, every doorway, every alley, every street is a potential enemy or a potential death. The situation that Tomas found himself in—an open-bed vehicle—the impossibility of that circumstance struck me.
You met Tomas' survivors. What was that like?
I actually got to meet his mother, his brother Nathan and the rest of his family. They're such a lovely family and I've been lucky enough that they've completely taken me in. Obviously, this is an important story for them—to have his voice heard and his story to be shared again. I don't even know what I would have done without that; it's one of the things I insisted on when taking the part that I be able to meet them if they were willing to do that. Luckily enough, they were absolutely wonderful about it. His mother, Cathy, lent me the only letter that Tomas ever sent from Iraq. I got to take that back to the hotel with me for a night and just read it. Those are the moments where there's no choice but to take on responsibility in a very real way. This is somebody's life, somebody's voice that I've been tasked with giving life to.
You are in a unique situation in that yours is possibly the most high-profile of the Long Road Home characters and you did have works by and about him to study — including Body of War and his Last Letter. How did that research inform your own personal take away of this man, beyond your performance onscreen?
Tomas Young has completely redefined strength for me—the entire idea of what that word even means. Body of War, Tomas Young's War—I was so lucky to have this kind of research available to me, all these different avenues that I could explore. The thing that I just kept coming back to with Tomas is the willpower. I don't know where he got that from. You read about people that overcome these humongous tragedies or these horrific things in their lives and they manage to dig deep and find within themselves something that is so profoundly strong and so, in a weird way, indestructible. That's what I feel about Tomas. And meeting Cathy and Nathan, it's something that definitely runs in the family!
What I loved about Martha's book, and consequently what I love about this series, is that it really is neither pro-war nor anti-war but an unflinching account of one incredible impactful series of days and the conflict and the human toll on both sides of the gun. That it takes news items that make us go, "Good God, that's awful!" and then promptly moving on, and makes us realize that good God, that was real and its impact is everlasting for more people than we can imagine.
Yes! Something that I really came away from doing this part and being involved in this series is the idea that we as a culture, as a society, as a country, however you want to look at that, we are, unfortunately, addicted to headlines. It keeps conversations at an unhelpful level. It's not close enough. It's not personal enough. We start yelling at each other about different concepts—Is this right? Is this wrong?—and something that I think is really necessary, especially in our current climate, is this series reminds you that this is not an idea. This is not the idea of war. Jon Beavers, the actor who play Eric Bourquin on the show, puts this so eloquently. He continually talks about how war is paid for by individuals, people who genuinely pay for the decisions that we make as a country. These choices are not headlines—they are paid for by the individual people who are on the battlefield. They are paid for by the families of these people. They are paid for by real people, and I think that is something that gets lost far too often in the discussion.
I was on set when you filmed the scene in which Tomas becomes paralyzed and it was harrowing. Tell me your experiences portraying that ambush, that moment, knowing some of the actual soldiers in the conflict were there watching you do it.
I've had a couple of the soldiers approach me in particular about that scene and some of them have said that they—and I—hope for any veteran or solider or military member who watches this and has been in situations like that in some way find it therapeutic. Maybe not even that particular scene, but the overall story. That's what I've been told by a number of people involved in this, is that being able to walk through this massive set that we created on Fort Hood—being able to walk through that and relive that in a "safe" way, in a way that your life is not actually being threatened—was hopefully a positive.
Part of the scene was Young's staff sergeant Robert Miltenberger (Jeremy Sisto) telling Young an untruth that was compassionate in the moment but would emotionally challenge Miltenberger for years afterward. Did you and Jeremy have any conversations about that in particular?
I really like Jeremy and we spent a lot of time together, but for the actors it was more that we wanted to create the care that is so prevalent amongst groups of fighters. I think that the miniseries Band of Brothers is called Band of Brothers for a very good reason: That's about the best title for something involving the military as you're gonna get. And one of the truly remarkable moments of filming this for me was one night where Cathy Smith, Tomas' mother, and Miltenberger actually met for the first time. They were both visiting set and they had never actually met. They were able to meet and sort of mourn together. That was really incredibly powerful to witness.
Tell me how you approached the impact of Young's injuries on his body and mentality. The "Young" episode features a roadside scene where he finally just bellows his losses and his sense of isolation that is rending—but does mark a turning point for him.
I tried to spend a lot of time in a wheelchair. I had production bring me his wheelchair—not literally, but the same model, even the same color. I spent as much time as I could in it, in my house on base, just trying to live in that. To get that into my body as much as possible. As more of a mental note or an emotional sense, my reading and research on Tomas and especially to see what the script offered in terms of that really says more than I'm gonna be able to. I can only imagine the rage for the unjustness and the change—because what other response would you possible be able to have with that?
The beauty of this episode is that Tomas was able to turn that into something constructive for himself. His growing into and becoming this voice for people in his circumstance or similar circumstances is just awe-inspiring to watch and to learn about. To be more specific, the idea of veterans care and how we've allowed that to disintegrate is, I think, pretty disturbing. It's unacceptable and has been for a long time. And I think that has too much to do with politics and not nearly enough to do with remembering that, no matter where you fall on [the idea of] war, we have to, as a country and a society, commit to giving these men and women everything that they need. Giving their caretakers and their families, everything that they need. Forever. No matter how they return home.
The Long Road Home, Tuesdays, 10/9c, National Geographic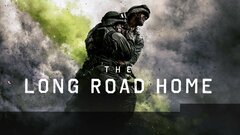 Powered by