'Outlander' Season Finale: The 6 Best Moments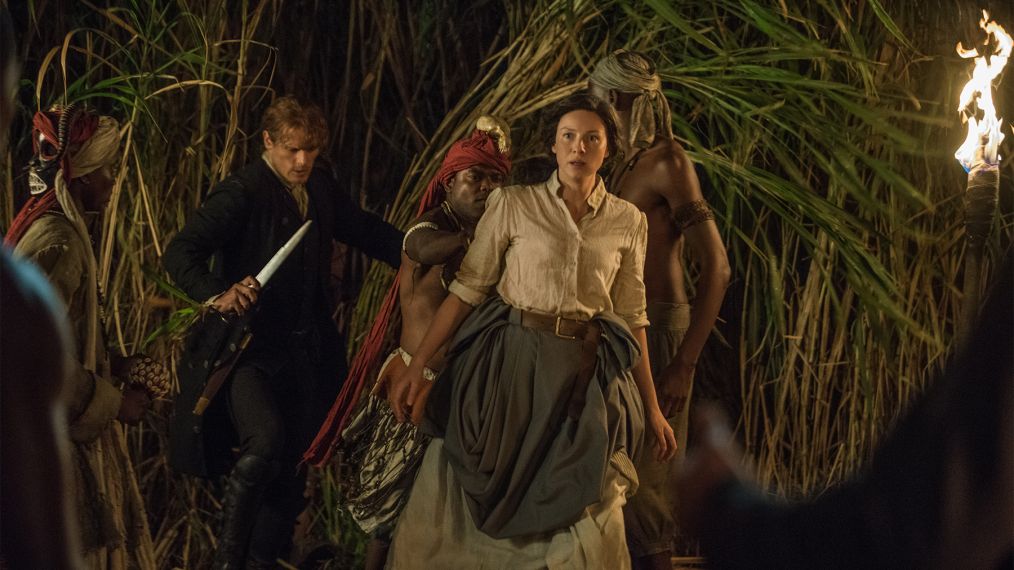 [Spoiler Alert: Do not read ahead unless you've watched this week's season finale of Outlander.]
And that's a wrap on season three of Starz's epic drama series, Outlander.
Claire (Caitriona Balfe) and Jamie (Sam Heughan) had quite the journey this season, which makes sense given the third installment in Diana Gabaldon's Outlander book series is called Voyager.
From starting the season separated, as we followed Claire's life in the 20th century (RIP Frank Randall) and Jamie's life post-Cullodon, we then moved into their steamy reunion and, of course, the couple faced more and more threats along the way.
But episode 13 of time-traveling drama's third season found the Frasers still in Jamaica shortly after Jamie was arrested and Claire was left alone to rescue Young Ian (John Bell), who had been abducted along with some hidden treasure a few episodes back.
In Jamaica, fans got more Lord John Grey (David Berry) swooning over Jamie and, of course, we also had the reappearance of stones-traveler Geillis (Lotte Verbeek), which made things a lot more interesting… and dangerous.
Here are the six best moments from the season finale episode:
John Grey to the Rescue: There's nothing like love to keep one man looking out for another, right? The noble John Grey is always there to help Jamie, even when he's about to be taken into custody (again!). While John is indebted to Jamie for many reasons, come on, it's because he'll always love and lust after our favorite Highlander. (In truth, aren't we all John Grey wishing Jamie could be ours?) Sadly, the two say goodbye in this episode but why do I have a feeling we'll see him again?

That dastardly Geillis: We were in the know during last week's episode that Geillis reappearing was not going to be a good thing for the Frasers. As always, the scenes between Verbeek and Balfe were terrific since our Sassenach knew there was probably more that Geillis wasn't telling her about why she was there in Jamaica (and vice versa). It was also no surprise that Geillis was the one who had Young Ian in her capture but we found out in the season finale her intention was to use him as her sacrifice to pass back through. But, shocker, Claire stopped that from happening when she killed Geillis before she could go forward in time and, presumably, seek out Jamie and Claire's daughter, Brianna (Sophie Skelton). The flashbacks to the bones that Claire saw in the 20th Century was also a nice reward to longtime viewers since we found out those were Geillis's bones and Claire had been the one to end the traveler's life.

Willoughby in Love: There were probably several new favorite characters in the third season but the most lovable would have to be Yi Tien Cho, aka Mr. Willoughby (Gary Young). Was anyone else's heart warmed in the finale when he tells Claire how he's finally found someone who sees him for him just as he sees her for her (Margaret Campbell, played beautifully by Alison Pergater)? It was a very brief part of the story but still lovely to see two unlikely people come together. And, also, did anyone else cheer when the Reverend Campbell (Mark Hadfield) had his comeuppance since he always so cruel to his sister?
Passing through in Jamaica: Who knew you could pass through time in places other than Craigh na dun? (OK, maybe faithful readers of Gabaldon's books did but it was a surprise to some of us!) Geillis was preparing to pass through while in Jamaica and, even after her death, Claire clearly felt the pull to almost do the same but stopped only by Jamie's touch of hand.
Anyone else seasick?: Of course, even after everyone is out of trouble in Jamaica and are back on the Artemis, danger comes when Mother Nature brews up a wicked storm at sea that endangers everyone's life once again. And even though we had the moment at the start of the episode where Claire was sinking in the water, ropes from a ship mast pulling her down, it was still a relief to see Jamie swimming to save her, wasn't it?
Welcome to America: Fans of Gabaldon's books probably knew that the beach where Jamie and Claire washed up would be America and that's where we'll be spending Season 4. And while we didn't find out who exactly survived the destruction of the Artemis, at least we can hope to see Young Ian, Fergus (Cesar Domboy) and Marsali (Lauren Lyle) again. All that said, hats off to executive producer Ronald D. Moore and his writers for leaving us with a nice cliffhanger for Season 4! Can we have it sooner than later, please?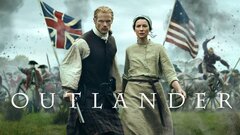 Powered by