'Outlander' Star Sam Heughan Says Reunion Scene Is 'Iconic, Special'
Break out the bubbly (or the 100-year-old Scotch). In the October 22 episode of Outlander the time-hopping romance, sexy soulmates Claire (Caitriona Balfe) and Jamie (Sam Heughan), finally fall into each other's arms again after she returns to 18th-century Edinburgh. The English doctor and Scottish Highlander are older, wiser and hotter—and their first time back in the sack rivals the night of their nuptials in Season 1's "The Wedding" for sheer pent-up passion.
"Their physical rhythm is obviously a huge part of their relationship and a huge part of who Claire is," Balfe says. "That's a side of Claire that she shelved for a long time. It's very liberating for her to express that side of herself again."
Claire's sensuality was bottled up for years while she and 20th-century husband Frank (Tobias Menzies) lived separate lives—and slept in separate beds. They stayed together only to raise Claire and Jamie's daughter, Bree (Sophie Skelton), who eventually encouraged her mom to travel back in time after Frank's death.
Talking about Bree is one way the newly reunited lovers, tentative at first, reconnect. Still, they'll have to contend with two decades of separate life experiences, and some jealousy. "They're different people now," Heughan explains. "Plus, they've been thinking about the other and where they are and who they're with—that's plagued them both in their quiet moments."
But make no mistake: At the core, Claire and Jamie remain the deeply bonded pair that viewers have always loved. Both stars and producers knew the pressure was on to deliver—and Heughan is happy with the outcome. "It's an iconic scene, and it's as special as we wanted it to be," the actor reveals. "It's about the joy of their reuniting."
The ripples of that will extend beyond the bedroom. Rekindling with Jamie also helps Claire rebuild her own sense of identity. "Being physical with Jamie is part of Claire learning to be whole again," Balfe says. "After you've lost something as important as that, it can fracture who you are. We see her being able to put those pieces back together."
Outlander, Sunday, Oct. 22, 8/7c, Starz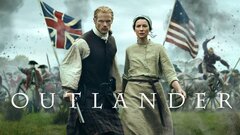 Powered by