'Berlin Station' Renewed for Season 3 on EPIX
The spies will keep on spying over at EPIX.
The premium network announced today that Berlin Station has been renewed for a third season. News of the renewal comes just days after the second season finale aired on Sunday. The series follows a group of Berlin-stationed spies as they maneuver identities and work assets on an often-international level.
The drama stars Richard Armitage, Richard Jenkins, Michelle Forbes, Rhys Ifans, Leland Orser and, new additions for the second season, Ashley Judd and Keke Palmer.
See Also
From reboots, to sexual harassment awareness, to streaming shows reigning supreme ... 2017 has been wild ride!
"We couldn't be more thrilled to announce this news as we close on a spectacular second season of Berlin Station," said Jocelyn Diaz, EPIX's Executive Vice President of Original Programming. "This past season was timely, significant, and almost eerily prescient in its mirroring of real-life events this year, and we are looking forward to working with the talented teams at Paramount TV and Anonymous Content on another installment."
"We are so excited to have the opportunity to continue to explore the compelling and timely stories of Berlin Station," said Amy Powell, Paramount TV President. "We look forward to continuing our partnership with the teams at EPIX and Anonymous Content to bring a powerful third season to our fans."
Berlin Station's first and second seasons are available on EPIX.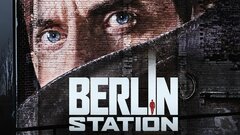 Powered by