PREVIEW: 'Berlin Station' Season 2 Finale—Will Robert Tell His Son He's a Spy?
A father's work is never done…especially when he's also a spy in the middle of an international crisis on the EPIX series, Berlin Station.
That's where CIA agent Robert Kirsch (Leland Orser) has found himself often this season as he's been dealing with political situations that make his work more than just a challenging day at the office. And since his son, Noah (Brandon Spink), has been in his life this season, Kirsch has been trying to be a father without his son finding out too much about his complicated and often dangerous job.
See Also
See how the magic is made on set.
But, as we head into the second season finale on Sunday, where all the characters' lives and their mission come to a head, it may be time for Kirsch to answer some questions that Noah has had all along. Also, in this extended preview clip, we also see how tearful their goodbye is when it's time for Noah to depart Berlin.
Check out this exclusive clip from this week's season finale of the EPIX spy thriller:
The Season 2 finale of Berlin Station airs Sunday at 9/8c on EPIX.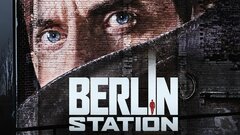 Powered by