First Look: Maura Is All Locked Up on 'Rizzoli & Isles' (PHOTO)
When TNT's Rizzoli & Isles returns February 16, Jane (Angie Harmon) learns that Maura (Sasha Alexander, pictured) was kidnapped after being attacked in September's midseason finale.
"Maura is in danger," says executive producer Jan Nash. "Being the smart medical examiner that she is, she's going to do everything she can to protect herself."
RELATED: Rizzoli & Isles to End With Season 7
Though Maura won't be missing for too long—BFF Jane is, of course, on the case to find her—the abduction, Nash says, is part of a story that will carry the team into the next (and final) season.
Rizzoli & Isles, Tuesday, Feb. 16, 9/8c, TNT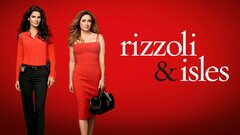 Powered by