Elyes Gabel Tells All on 'Scorpion's 'Curveball' Holiday Episode
Scorpion leader Walter O'Brien (Elyes Gabel) may be a genius, but this isn't his brightest move: On tonight's ­episode of the hit action series, he ­suggests his world-saving team of misfit masterminds work through Christmas. Unfortunately, Happy (Jadyn Wong), Toby (Eddie Kaye Thomas), Sylvester (Ari ­Stidham), Cabe (Robert Patrick) and even Walter's ­girlfriend, Paige ­(Katharine McPhee), take off. ­Walter, left alone, is then knocked ­unconscious. Cue the It's a Wonderful Life–inspired dream sequence! "It's a curveball, but one that I'm really proud of," ­Gabel says. He tells us more.
How the heck does Walter hurt himself?
He's very stubborn, so if no one else is going to work, he's going to make the sacrifice. He says, "I'll do all the jobs you would have done." And he takes a bit of a fall while he's in the garage. When he wakes up, everything is strange.
In what way?
We see all the characters in the show as different people: Cabe is a police chief. Happy is ­doing a podcast. Toby is this crazy motivational speaker. Paige is a restaurant/diner mogul. Walter's old friend Ray [Kevin Weisman] tries to help him put together what is happening.
So what is happening in this odd dream world?
There's a person trapped in a car—and that person is Walter! He has to figure out how to help himself before it's too late. Ray makes Walter realize he has to get the whole team together to try and save this fake version of Walter's life. It's all mirroring what is ­actually happening in the real world of Scorpion. After his fall, Walter has internal bleeding, so he could really die, and his team is trying to save his life.
That sounds complicated!
It's definitely a departure from the normal format [for us], but I would say this is probably my favorite episode of Scorpion. It's a heartwarming story about how Walter needs his family, and the family needs him.
Scorpion, Monday, Dec. 18, 10/9c, CBS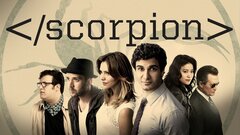 Powered by