'Scorpion': My Day on the Set of the 'Faire is Foul' Episode
CBS' Scorpion has taken its characters all over the world in its four seasons, but on September 27, they stayed local: the talented crew transformed Malibu's Calamigos Ranch into a Renaissance fair in three short days. And this writer for TV Guide Magazine and TV Insider was there to witness it all.
The result of the crew's hard work is apparent in the Monday, November 13, episode of the series, and in-person, the location was equally stunning. The cast, crew, and extras were already hard at work by the time I was due to arrive on set, but I was taken on a quick tour when there was a break in filming.
Next, I was taken to the wardrobe department—in addition to interviewing the cast for the TV Guide Magazine piece, CBS asked if I'd appear as a background extra in the scenes they were filming that day. The wardrobe team has picked out an outfit they think would work, and they were indeed correct; the first match is perfect. But since I wouldn't be filming for a bit, I changed back into my own clothes.
Katharine McPhee (Paige) and Elyes Gabel (Walter) were the first to sit down to chat. "I was enjoying the costumes until it got real hot outside," McPhee says with a laugh of her custom-made outfit.
Though Walter and Paige are couple-coordinated (cosplaying as Robin Hood and Maid Marian), the two couldn't be more out of sync in how they're reacting to the fair. "It's Sly's birthday and Paige is excited to be there," McPhee explains. But Walter isn't having it. "His thought is it makes no sense to go back to the renaissance when you're using all the luxuries like electricity and you're pretending it's the 16th century," Gabel says. The duo go back to set, where Walter is not impressed by the sword in the stone gag.
After lunch, Yahoo TV reporter Robert Clarke-Chan and I get into our era-appropriate wardrobe and wait to be sent to our marks. First up, I sat down with Robert Patrick (Cabe) before filming resumed. Though the federal agent doesn't seem entirely in his element at the fair, "Cabe will do anything he can to help support the team," Patrick says. "He's willing to embarrass himself to let them enjoy themselves and have a good time."
As extras roam around the set, Patrick excitedly shares that he found out the people working on this day as fair goers brought their own costumes.
As production resumed, Clarke-Chan and I were placed behind McPhee and Gabel as Sly (Ari Stidham), Cabe, Paige and Walter were introduced to the fair's king (guest star Brandon Barash). [Spoiler alert: not everyone is impressed by him and things go astray pretty fast.] We do various takes of that, and then we walk in the background with the other extras as they did additional coverage.
"Team Scorpion, they're very smart people, but if you watch the show, they tend to not have the best luck," Stidham jokes during a break. "I can preview that Sylvester dresses as Galileo; I have a very cumbersome collar. So things happen and hilarity occurs."
Eddie Kaye Thomas (Toby) and Jadyn Wong (Happy) joined the rest of the cast for the first full group shot of the day: their dramatic entrance into the fair. Clarke-Chan and I were placed directly behind them, and then left to wander off. We headed toward the cheesy fries, because even fictional cheesy fries are better than no cheesy fries.
"I do some juggling in this episode, and the juggler [at the fair] is showing me up," Thomas notes. And Toby will have some relationship juggling to do, as well. "Toby is using his relationship experience to help [Walter and Paige] through these difficult times. Toby is also helping Cabe through emotionally difficult times through his case."
But at the end of the day, there's still Scorpion-style fun. Says Thomas, "There are some bad guys, some action, and some ridiculous times." And with that—and a quick change back into my 2017 garb—that's a wrap for our day on set!
Scorpion, Mondays, 10/9c, CBS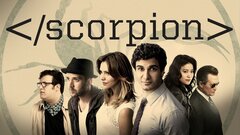 Powered by