Is the Future of 'American Gods' in Jeopardy with Showrunner Shakeup?
What will American Gods be without showrunners Bryan Fuller and Michael Green? Will it even continue? Those are just a few of the questions nobody expected to be answered when news broke on Wednesday that the duo were exiting the Starz series.
The supernatural series, based on the Neil Gaiman 2001 novel of the same name, is produced by FremantleMedia, who reportedly have shown Fuller and Green the door over budget and creative direction disputes. This comes a year after Fuller left his role as showrunner on CBS All Access's Star Trek: Discovery due to delays in production.
See Also
The journalist was accused of sexual misconduct by a colleague.
The news, of course, puts the future of American Gods in jeopardy. While a new showrunner will more than likely be sought, time will tell how that will affect the look and feel of the visually impressive series. The show, starring Ricky Whittle and Ian McShane, earned an early second season renewal shortly after it's premiere and those episodes were expected to start airing in mid-2018.
The first season of American Gods is available on Starz and the Starz app.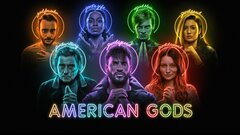 Powered by