5 Things to Know About 'Speechless's John Ross Bowie
Considering the challenges affable dad Jimmy DiMeo (John Ross Bowie) faces on Speechless— financial hardship, raising JJ, a teen son with cerebral palsy (Micah Fowler)—he' s remarkably easygoing. Perhaps too easygoing. On tonight's episode of the ABC comedy, wife Maya (Minnie Driver) and daughter Dylan (Kyla Kenedy) worry he's lost interest in the things he used to love. So when JJ and Ray (Cedric Yarbrough) head to the premiere of Star Wars: The Last Jedi, the ladies treat Jimmy to a night of his kind of fun. Here, we get to know the man behind the DiMeo dad.
1. His last name rhymes with "Maui."
Most people pronounce his name the way they would David Bowie's. And some fans even think he's related to the late English rock star. "I got a lot of condolence notes when he passed," Bowie says.
2. He was a late bloomer.
"I didn't start seriously pursuing acting and comedy until my late 20s," he admits. "I was working in an office and realized that I was the funniest guy there. That is when I started taking classes in New York, and I got pretty lucky pretty fast."
3. He tends to get his biggest roles at the last minute.
"I booked The Big Bang Theory the night before it started [filming], I booked Speechless the night before it started [filming]," Bowie says. But that didn't necessarily put the actor at a disadvantage when it came to diving into those parts. "What you hopefully have done is prep for the role in order to audition," he explains.
4. He has a face that says "murder suspect."
For a while, Bowie was only able to get auditions for suspects on police procedurals. "Every part that I went out for, the character said something along the lines of, 'Wait, you guys think I killed her?'" he recalls with a laugh. "I read as the kind of guy who looked like a murderer but didn't have the conviction to follow through."
5. He may have accidentally used The Secret to get his role on Speechless.
"I was thinking, 'If I had a dream gig, what would it be? It would be fun to be on a comedy that let me flex my ­dramatic muscles,'" Bowie recalls. Not long after idly employing the law of attraction, the script for Speechless came his way, and the rest is history.
Speechless, Wednesday, Dec. 6, 8:30/7:30c, ABC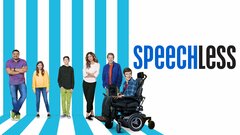 Powered by