'A Christmas Story Live!' Executive Producer Wants to 'Push the Limits' With TV Musical
You'll shoot your eye out, kid! And that's not the only thing that could go haywire when the rowdy and ­irreverent classic A Christmas Story comes to TV as a live musical. Set in blue-collar Indiana circa 1940, this nostalgic saga—about young Ralphie Parker and his desperate wish for a Red Ryder BB gun—requires a large ­company of child actors, plus real dogs (those dreaded Bumpus hounds!) who must ruin the Parker family's turkey dinner precisely on cue. Oh, and snow. Tons and tons of snow. But hey, if you can't show off when you're flying without a net, then what's the point?
"We have two big goals here," says executive producer Marc Platt (La La Land) during a rehearsal break. "We want to delight the people who love the 1983 film—and there are many millions of them—and we want to push the limits of what's possible when TV goes live." Platt set that bar super high in 2016 with his sprawling and energetic Grease: Live!, which left most other recent live TV musicals—The Sound of Music, Peter Pan, The Wiz—looking a little dusty.
"Ralphie's story is just like his imagination: overactive," says Maya Rudolph, taking on the role of the boy's nameless, ever-harried mom. "Reality is constantly colliding with fantasy. There are split-second costume changes and ­instant jumps from one locale to the next. Every rehearsal feels like a Jane Fonda workout." Rudolph adds with a laugh: "I spent years on Saturday Night Live and that was sane compared to this. This is not normal. This is crazy."
It sure is delicious, though. A Christmas Story Live! ­features a feisty score by composers Benj ­Pasek and Justin Paul (Dear Evan Hansen), who first musicalized it for Broadway in 2012. Tony winner Matthew Broderick narrates as the older Ralphie, and Chris Diamantopoulos (Silicon Valley) portrays Ralphie's grouchy dad, aka "The Old Man." The part of Ralphie went to 11-year-old Andy Walken, after the Seattle native beat out 350 other kiddos in a nationwide talent hunt.
"I'm geeking out!" Walken gushes. "I'm sharing a role with Matthew Broderick. He was Simba in The Lion King!" The newly minted star claims he's "probably seen A Christmas Story 200 times" thanks to the annual 24-hour holiday marathons on TNT and TBS. His favorite part? "Watching Scut Farkus, the town bully [here played by Sacha Carlson], get what he deserves!"
Broderick also feels a personal connection: His late father, James Broderick, played "The Old Man" in a 1982 PBS production. "This is a full-circle thing for me," he says. "How could I say no? Still, that doesn't mean this isn't terrifying. I fully intend to disassociate myself when this hits the air. I will be hovering above my body. If I'm horrible, it won't matter."
But, then, aren't life's hiccups what A Christmas Story is about? "It's like a broken Norman Rockwell painting," Diamantopoulos says of the tale based on Jean Shepherd's book In God We Trust: All Others Pay Cash. "We dream of the perfect Christmas, but does anyone ever ­actually have one?" Probably not, and that, notes ­Rudolph, is why this story has endured. "People love a bumps-and-bruises version of the ­holidays," she says. "This one is dysfunctional and a little bit sad, but it's also hilarious. We can all relate—and that's how the Parkers found their way into America's heart."
A Christmas Story, Sunday, Dec. 17, 7/6c, Fox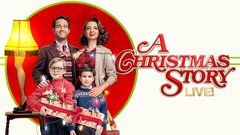 Powered by