'The Long Road Home' Star Jason Ritter: 'Really Proud to Be a Part of Something Healing'
Martha Raddatz frequently describes the 1st Calvary Division soldiers who populate her 2004 book The Long Road Home—and now the corresponding National Geographic event series—as "from the minivan to the Humvee."
Perhaps no one better illustrates that Capt. Troy Denomy, who kissed his wife and days-old son goodbye in April 2004, boarded a plane to Iraq and landed in the middle of a nightmare as a platoon from his Charlie Company, 2-5 Cav division was ambushed in what would become known as Black Sunday. By the time, the survivors were rescued via a bold mission led by Denomy and Lt. Col. Gary Volesky, eight men were dead and more than 60 others wounded, including Denomy, who suffered shots to the back and shoulder. And the Iraq conflict was forever redefined.
See Also
Award-winning journalist Martha Raddatz talks about National Geographic's 'The Long Road Home,' based on her 2007 book of the same name.
Thirteen years later, Colonel Denomy is still active-duty military, and among the soldiers who point out that Black Sunday was, at least to some degree, just another day in their tenure. For actor Jason Ritter, who plays the new dad in Nat Geo's The Long Road Home, the idea is sobering.
"Denomy had one night with his newborn son before he had to leave," Ritter said while on The Long Road Home set in mid-June. "It's unimaginable. He was born four days earlier, they had finally come home from the hospital and then this happens—four or five days in to their deployment? That's one of the things that hit me so hard in the script and in the book is this moment after all this is all done, they don't get to go, 'Wow, that was super intense. Now we can all go home and rest.' They have the rest of their deployment, and by the end of it, eight guys died in this battle and before this deployment was over, 160 more."
Like most of his actor counterparts, Ritter said that, rather than trying to do an exact impression of his real-life counterpart, he homed in on subtleties and distinct personality traits when he spoke with Denomy and spoke to others about him.
"I just asked him what it was like and he started going through it—and he was very detailed," said Ritter of their initial phone conversation. "He such a strong man who's been through an intense experience. But the thing that struck me the most about him, and what I took away from our conversations, is—and this is a common thread for everybody that I've talked to—very rarely do you hear any sort of complaint about themselves or what was happening for them. Their wounds were secondary to what was happening for everybody around them. That was what my conversations with Troy were like. He's talking about Sergeant Eddie Chen and other soldiers that fell and are still on his mind, all these years later. It's just something that never goes away."

Ritter noted that he and his fellow actors fully understood both the gravity and the honor of what they were about to undertake from the moment they set foot in Fort Hood, where the real-life soldiers were based and The Long Road Home filmed.
He shares: "One of the nice things—and this is something that I think we all realized pretty immediately when we were doing boot camp and training—was that none of the actors came into this with a cigar-chopping swagger: 'I got this and I know what to do. Everyone had their heads down. Everybody was determined to learn, open to learn, wanting to learn, wanting to get it right and wanting to have it look right. We were all coming from this neutral and respectful and deferential place of, 'This means a lot to all of us, and we want to do everything that we can to get it right.'"
That reverence included the home-front element of the series, which, Ritter notes, is a frequently overlooked part of the military experience.
"The home front part of this storyline is such a hugely important part—and it's not a story that gets told a lot," Ritter says. "You hear about these types of heroics sometimes, maybe, but not necessarily this truthful and intense … the being at home and not knowing. The heroics of that are nothing to overlook. That these women have to let their friends know that their husband, their boyfriend has passed away. Those were things that I had never known about."
See Also
Plus, check out photos from our visit to the set!
Ritter also appreciates Long Road Home's overarching theme that every soldier lost produces a ripple effect throughout their company, their home base, their country that never ends.
"I won't speak to anyone else but me, but you hear a number, '160 dead,' and you go 'That's awful!'" Ritter explains. "You hear eight and you go, 'Oh my gosh, eight.' But then to tell the story of these eight people and have a real sense of what that means. … The reality is you're not given any detail and so it becomes just a number. Lot of times, even if they mention the soldiers' names, you don't get a sense of who they were. You maybe see a picture and you hear a name and that's all you get — so [it's important] to tell the story of Chen, for instance. This guy that everyone loved, too."
See Also
'I'll carry the respect that I have for the men and women who do what they do for me, for you, for all of us to live this incredible life that we get to live,' says Michael Kelly of playing a real-life war hero in National Geographic's 'The Long Road Home.'
And in doing that, Ritter hopes that the appreciation the soldiers on set have for the project and its message extends far into the American military family.
"One of the best parts of this project is that we get to help, not just the people involved, but all soldiers that have gone through a situation that is even close to this or like this in any way," Ritter says. "There's something cathartic about this show. It's going to give a voice to the soldiers that were in this that can't say the same things to their families. It's gonna help them explain: 'This is what happened.'
"One of the guys came by who was part of one of the rescue teams and we were showing him the house that the 19 guys got held up in," Ritter continues. "After the tour, everyone was moving on to go see different parts of the set and he stood back and kept looking at it. I was one of the last people by and I saw him start to feel something and put his head down and weep a bit. I just stood close to him in case he needed to say anything and he just looked at me and was like, 'I never got to see this place. We passed it twice and I can't believe we passed it twice.'
"I think there something beautiful about him getting a second chance to see where his brothers were held down. I think it was, in some way, hopefully going to help him move forward and let go. We're all just really proud to be a part of something that could be called healing in any way. And keep those guys' names alive."
The Long Road Home, Tuesdays, 10/9c, National Geographic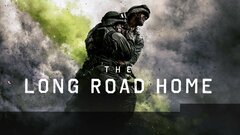 Powered by