Think You Know the 'In Cold Blood' Story? SundanceTV's 'The Clutter Family Murders' Will Make You Think Again
It was America's first true-crime book, an engrossing blend of fact and embellishment that captivated and horrified the nation—and made folks in its pastoral heartland deadbolt their doors, perhaps for the first time ever.
In 1959, bestselling author Truman Capote happened upon a small New York Times article about the murders of Kansas wheat farmer Herbert Clutter, his wife and their two youngest children. The notion that this salt-of-the-earth family could be obliterated in its own rural farmhouse proved irresistible to Capote, who enlisted his pal, To Kill a Mockingbird scribe Harper Lee, to join him in little Holcomb, Kan., and delve into the crime. Seven years later, In Cold Blood hit the bookshelves, becoming an instant bestseller and turning Capote into an oddball, A-list celeb.
And the Clutters? America's most famous murder victims were now literary characters, known to generations only for the worst, last night of their lives. Until now.
This month, Emmy-winning true-crime filmmaker Joe Berlinger takes on the tale he says first drew him to the genre in Cold Blooded: The Clutter Family Murders, the only definitive documentary on the case. Featuring commentary from relatives, family friends, insiders and law enforcement, plus rare photos, documents and recordings, the two-night event is a deep dive into the truth about the crime, its victims and its perpetrators.
Among the participants is Paul Dewey, whose family was close to the Clutters and whose father, Alvin, was the Kansas Bureau of Investigation's lead detective on the case. Age 9 at the time of the murders, Paul mined boxes from his parents' home to share insight from a trove of articles, film reels and — most critically — his dad's Clutter case files.
"Over the years, we became friends with Harper Lee, and after my mom and dad died, she advised my brother and me not to talk," Dewey, an attorney, explains. "But I'm the last one around to know my family and the relationship with Truman and Nelle [Lee's real name], and I felt like it was probably time to share this story."
As do Clutter survivors, who speak publicly for the first time ever. "We also have the only footage of the Clutter family prior to their murder — just footage of them alive and being who they are," Berlinger says. "It gives me an opportunity to humanize and three-dimensionalize these iconic figures who are only seen as victims.
"This book is so revered in literature, you don't want to do anything to make people not feel the same way about it," Berlinger continues. "But here's an opportunity to really pull back and see it with a new perspective. A larger perspective."
See Also
A look at some of the incredible true-life stories available on various streaming outlets.
Cold Blooded: The Clutter Family Murders, two-part documentary, Nov. 18-19, 9/8c, SundanceTV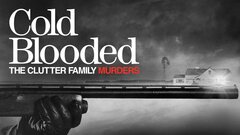 Powered by