'Total Divas' Recap: Adventures in Babysitting
Competition is at an all-time high this week on WWE Total Divas as the first women's Money in the Bank ladder match takes place. Carmella ends up winning it and becoming the inaugural Ms. Money in the Bank. Also, Alexa Bliss and Lana face situations leaving them feeling self-conscious. Elsewhere, Birdie gets looked after by Natalya and Trinity.
Here's what happened this week:
Get to know Carmella – Viewers learned a little more about new cast member Carmella—otherwise known as the moonwalking, trash-talking "Princess of Staten Island." She is the daughter of a former wrestler, a former New England Patriots cheerleader and Los Angeles Laker Girl. In other words, she has it going on. We find out Carmella has been dating fellow WWE superstar Big Cass for the last four years. They barely see each other because Carmella is on SmackDown Live while the boyfriend is on the Raw brand.
Lana Wants to Wrestle – Lana has worked hard to improve in the ring with extensive training over the past year. She was rewarded with two championship matches against Trinity (Naomi). Despite the big opportunities, Lana doesn't feel she is being taken seriously as a wrestler. Announcer and former cast member Renee Young sees Lana down and tells her not to beat herself up. Nia Jax doesn't feel Lana needs to wrestle as she is already recognizable and generates a reaction in the managerial role. Nikki Bella lifts her back up during a workout. She is clearly passionate about continuing to wrestle and putting on more muscle. After the second Trinity match Lana is pulled aside by Mark Carrano, the WWE head of talent relations. He tells her the company is pulling the plug on her wrestling and training. Lana is devastated and calls Nikki for advice. Nikki knows WWE and the fact creative may change their mind at the flip of a hat. She once again tries to make Lana feel better. Nikki is a good friend.
My Fair Lady Bliss – Maryse looks to bond with Alexa Bliss more and takes an interest in how she dresses. Maryse, Alexa and Nia go on a shopping excursion before a live event in Japan. Alexa tries on some clothes Maryse picks out. Nia watches from the sidelines and sees that Alexa appears uncomfortable. She also knows her bestie overcame a lot and doesn't want any regression. Alexa is interviewed by former WWE ring announcer Lilian Garcia for a podcast. She talks about overcoming an eating disorder, being hospitalized at 15 and hiding her body away. After a match Alexa tells Maryse she enjoyed hanging out, but the clothes she picked out weren't for her. A great message in embracing who you are. Maryse told Alexa she was fine the way she is and the intention wasn't to change her. She just wanted to have some fun. Maryse agrees that next time Alexa can pick out some things for her to wear.
Adventures in Babysitting – Natalya and Trinity visit Brie Bella in Phoenix and end up watching newborn Birdie so Brie and husband Bryan can enjoy some alone time. Brie provides a list of instructions, which leaves Nattie overwhelmed. She is admittedly "Cat People." Trinity welcomes the challenge and sees it as practicing for motherhood. She takes care of baby while Natalya is preoccupied with taking selfies with the doggies.
Natalya Isn't Ready for Baby– After Brie and Bryan come back from their day date, Nattie plays it off how her and Nattie took care of Birdie. She volunteers them to babysit again. During the second visit Nattie breaks down about not being ready for motherhood. She wonders how she can be so nurturing to her family and to women in the locker room but resist even holding a baby. Brie believes being a mother isn't for everyone. Trinity also believes she has a few years at least before any baby aspirations.
WWE Total Divas, Wednesdays, 9/8c, E!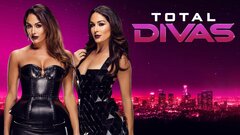 Powered by