'Real Housewives of Atlanta': Kandi Has No Interest In a Friendship with Porsha
Get ready for Kandi-coated Sunday nights. Kandi Burruss is currently starring on two Bravo docuseries: The Real Housewives of Atlanta, returning for Season 10, and newcomer Xscape: Still Kickin' It (9/8c), which follows Burruss's less-than-harmonious reunion with her '90s R&B girl group. Here, the multitasking wife, mom and budding restaurateur talks about singing for her supper.
These two programs premiered back-to-back. Were they filmed simultaneously?
I started doing the Xscape show, then for a minute we were shooting both at the same time—I never had a day off from taping—and we're still filming Housewives now. I'd also just opened a restaurant, and it's like, "OK, I have overdone it!" You'll definitely see that stress come out.
You finished Season 9 of Housewives on extremely rocky terms with some of your costars, including Porsha Williams. Where do things stand now?
I'm not even going to fake that I want a friendship with Porsha. I try to be cordial for the sake of the group, but knowing there's no limit to what some of these women will do to try to tear me down, I can only be so cool.
See Also
Get to know the new Bravo star and former 'America's Next Top Model.'
Speaking of bad blood: How messy did it get when you and the other members of Xscape—Tamika Scott, Tameka "Tiny" Cottle and LaTocha Scott—disbanded 18 years ago?
It was not the best situation, needless to say. Coming back together, we had to readdress so much history and craziness. It was hard. In certain areas, we have matured, but in others we slipped right back into old roles.
The four of you are kicking off a national tour on November 22. Does that mean you're in tune again?
Knowing the arguments we had while taping the show, I'm scared that it's all airing right before we go on tour. We're going to be dealing with all of this drama just as we're going on the road with each other, which is gonna be…interesting!
The Real Housewives of Atlanta, Sunday, Nov. 26, 8/7c, Bravo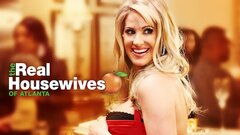 Powered by